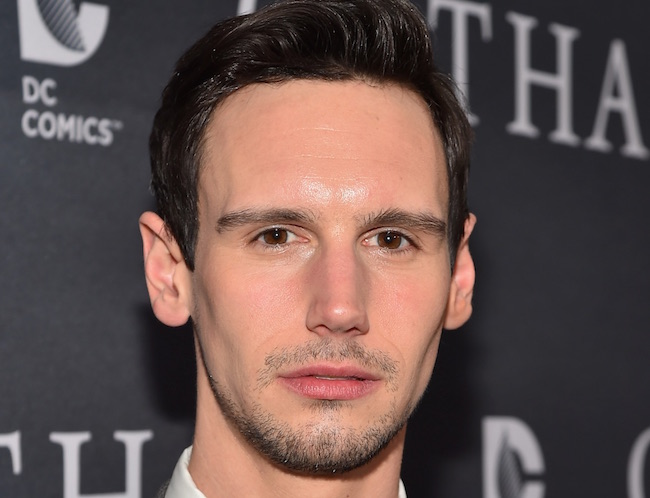 Cory Michael Smith is an actor best known for his role on Gotham portraying Edward Nygma, a forensics expert who works for the Gotham Police Department and enjoys speaking in riddles. (Psssst: That's because one day he's going to be The Riddler.) On Monday night, the first season of Gotham comes to a close with an episode titled, "All Happy Families Are Alike."
Leading up to the premiere, Cory Michael Smith — who we've heard plays a big role in Monday's finale — took some time to answer a few questions from us.
1. You walk into a bar. What do you order from the bartender?
Fries.
2. Who's your favorite person to follow on Twitter?
@TheTweetOfGod. No one mentioned during catholic school that he had such a great sense of humor.
3. What's currently waiting for you on your DVR/TiVO?
Better Call Saul!
4. It's your last meal — what are you going out with?
I'd rather not know when I'm going to die and enjoy whatever the hell is in front of me in peace.
5. What websites do you visit on a regular basis?
HBOGo (watch Olive Kitteridge!), Netflix, and 10-plus different news sites. I closely follow the disturbing world of politics.
6. What's the most frequently played song on your mobile device?
Probably something by Ani DiFranco. Or played by Yo-Yo Ma. Or sung by Ella Fitzgerald or Diane Schuur.
7. The first face that comes to mind when you think "punchable?"
Love. Love is the way to go.
8. What's the last thing you googled?
Real estate in Paris. I can dream, can't I?
9. Dogs or cats?
I prefer people.
10. Best concert of your life was…?
Hopefully the one I go to next.
11. What book are you most likely to give as a gift?
I'm addicted to buying books for my niece, so maybe Dr. Seuss, or maybe I'll start her on J.D. Salinger soon enough.
12. What's the nicest thing anyone has ever done for you?
My two awesome parents did some pretty nice things for me. For example, they kept me alive.
13. South Park or Family Guy?
House of Cards?
14. You have an entire day to do whatever you want. What would you do?
Maybe an extravagant restaurant tour in NYC all day with a few close pals.
15. What movie can you not resist watching if it's on?
What About Bob?
16. The sports team or teams you're most passionate about?
I'm passionate about the concept of sportsmanship. Can we teach Congress about sportsmanship?
17. Where did you eat the best meal of your life?
So many! Gah! Food! One of life's greatest joys. The clincher may be Morimoto in NYC. Unreal.
18. The last movie you saw in a theater?
Paul Thomas Anderson's Inherent Vice.
19. Who was your first celebrity crush?
Julia Roberts.
20. What would you cook if Nic Cage was coming to your house for dinner?
…….?
PREVIOUSLY: Nate Bargatze