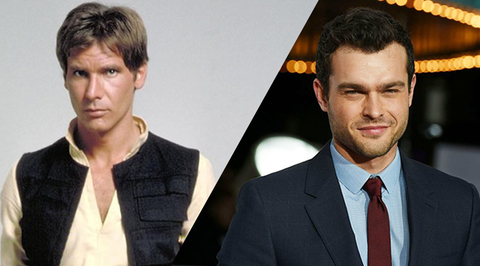 Months of auditions and a ridiculous amount of rumors after the casting process began, the new Han Solo has reportedly been cast for the upcoming "Young Han Solo" movie. According to Page Six, the deal is "basically done" for presumed frontrunner Alden Ehrenreich to don the leather jacket and become the new Han. [UPDATE: Deadline reports the deal is official.] Set to be released in 2018, thousands of actors auditioned for the role but Ehrenreich apparently won out in the end due to how he "impressed Disney and Lucasfilm execs with his screen tests." Other up-and-coming favorites for the part that fell just short include Taron Egerton, Jack Reynor, Ansel Elgort, and Miles Teller among others. So basically anybody in Hollywood with a decent agent and even an ounce of career buzz.
The movie will revolve around the life and times of Han Solo before he joined the Rebel Alliance and started getting into all sort of space shenanigans with Luke, Leia, and the rest. Not to fret though, as the movie won't be a straight-up origin story. Lawrence Kasdan has revealed that it will have more to do with where and who he was in the time leading up to when fans meet him for the first time rather than where he started from as a teenage rebel.
The relatively unknown actor most recently appeared in the Coen Brother's 2016 romp Hail, Caesar! and was widely loved by critics for his performance as a Spaghetti Western actor being repackaged for more elegant leading man roles. Rumor has it that the early casting news – the movie isn't set to start filming until January 2017 – is due to the character having a cameo appearance in Rogue One which is still currently shooting in advance of it's December release. At least this announcement stops the relentless speculation about who will land the role and lets the production finally toss out "Project Red Cup" as the cover name for the process (because of Solo, get it?). However, the announcement also means that speculation on just about everything else pertaining to the film from fan theories to plot rumors can gear up for real.
(via Page Six)