For four seasons, Eastbound & Down (which you can stream on HBO NOW) was one of the funniest shows on television. The show wasn't supposed to last, though, and every season seemed like it was shot as if it were to be the last. (The third season was actually going to be the final season, but HBO talked creators Danny McBride, Jody Hill, and Ben Best back to the table.) That's just one fact that you may not have known about the travels and triumphs of Kenny Powers and his life in the twilight of his career. Here are some more facts you may not have known about Eastbound & Down.

Danny McBride, Jody Hill, And David Gordon Green Are Old Chums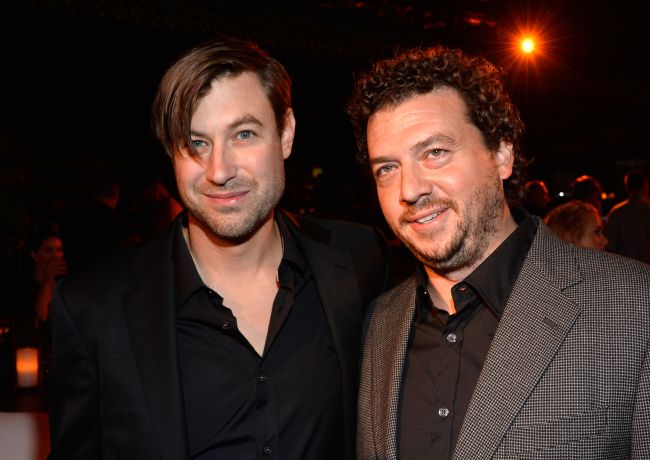 Back when they were just students at the North Carolina School of the Arts, McBride, Hill, and Green all shared the same dormitory floor. Hill and Green directed most of the episodes of Eastbound & Down, and the trio, along with Ben Best, are the braintrust that spawned the demented machinations of Kenny Powers' road to redemption.

Harris Wittles Got A Writing Gig For The Show With An Outlandish Script
The late-TV scribe got a job on Eastbound & Down by writing a ridiculous scene that featured Kenny Powers and a shark. In an interview with Grantland in 2013, Wittles explained the scene that won him a position on the show's staff.
I sent in some insane thing about Kenny boogie boarding and a shark eating one of his hands, and quitting baseball, and then former MLBer Jim Abbott comes to pump Kenny back up. Totally insane, but got me the job at least.
People Think Danny McBride Is Really Like Kenny Powers
Powers likes his guns, his fastballs, his drugs, and even his prostitutes, so why would some people automatically assume that Danny McBride is in any way similar to his character? Perhaps because his performance is that spot-on that it almost seems like an extension of himself? It is, in fact, slightly difficult to distinguish the real man from the fictional one because McBride does such a good job with the aloof nature of Powers. In an interview with GQ, McBride commented on the confusion.
You know, this notion that I'm Kenny Powers comes up all the time. Even when I was interviewed by, like, Emmy Magazine or something. You would think that a magazine showcasing Emmys would know about performances and stuff—and the lady's first question, she says she thinks I'm really Kenny Powers. I mean, Kenny Powers is the type of dude that Jody and I have always thought was funny, and it's the type of character that I think we've grown up around, but it's not really a character that either of us are like.
The Plans For The Third Season Were Ruined By Mike & Molly
It was originally planned that April and Kenny spend the majority of the third season together, but Katy Mixon was unable to reprise her role in the season, save a few appearances, due to commitments to another show. Danny McBride talked about the conundrum in an interview with VICE.
Originally, our third season was going to be about Kenny and April together. But Katy Mixon, the actress who plays April, was on Mike and Molly so we found out after we started to write the third season that we were only going to have her for two episodes, so it kind of f*cked up what our plan for the whole season last year was gonna be. We had all this material, all this stuff, all the angles that we basically had to just throw out the window.
The Child Actor Who Played Kenny's Son, Toby, Has A Cool Older Brother
Steele Gagnon (which is an awesome name) played Toby, Kenny's son, in Eastbound & Down, but he has an older brother who may or may not destroy the world one day.
"Oh yeah, he's great," McBride said in a 2013 interview with Vulture. "Steele [Gagnon] is just incredible, and he really gets it. I think a lot of that probably has to do with his parents. His older brother [Pierce] is the Rainmaker in Looper."
So, we should probably destroy the two brothers, right? So, like, the end of the world doesn't happen?

Kenny Powers Was Almost In The Hall Of Fame
In the original plans for the fourth and final season, Kenny was going to embark on a quest to reach the Baseball Hall of Fame. Plans for the journey to the hall were nixed and a different route was taken in the last season, one that didn't require Kenny to write a bunch of letters in order to reach the hallowed grounds. Jody Hill and the gang thought the storyline was a dead end, so they decided against it, but not before spending "four or five months" working on the narrative. Powers is too big for the Hall of Fame anyway.

The Show Is Over. But…
It might not be gone forever. In an interview with Splitsider, Jody Hill mentioned that a fifth season — or even a movie — might be in the works for the future.
I think it would need to be years from now. Eastbound & Down is a character piece and it follows this guy as he takes on life. I think you could pick it up in like 10 years with whatever he's dealing with then. He's probably going through some crisis. I think it might be cool to do that in the future or a movie or something like that. Yeah, why not?
If that's not enough for you, Hill and McBride are developing another show for HBO set in high school, and revolving around a team of vice principals. Also, it stars Walton Goggins. Do you really need any more than that to get excited? Vice Principals is set to debut in 2016.