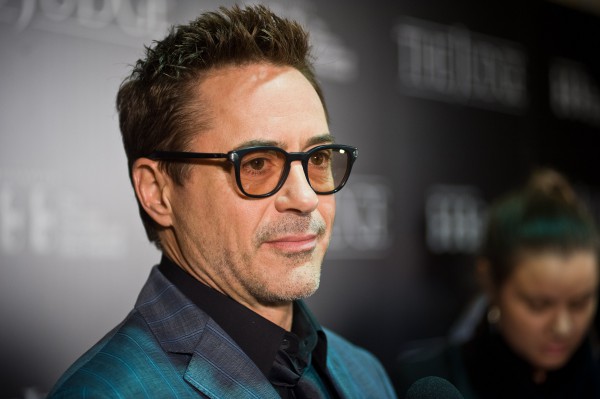 Robert Downey Jr. was the highest paid actor in Hollywood last year, raking in an astounding $80 million. Considering that he also has Sherlock Holmes 3 and Captain America: Civil War in the works, he'll probably be swimming in money this year, too. Not bad for a guy who 15 years ago was sitting in a jail cell for drug possession and in the midst of watching his career go down the drain.
Even with the amazing comeback story that RDJ has forged, there are still those roles that he missed out on over the years. Yes, some of them he lost because of his legal troubles, but others he simply lost because another actor had prettier eyes — looking at you, Johnny Depp. To mark the occasion of RDJ's 51st birthday, here are six movies that almost got a dose of Tony Stark.
Pretty in Pink (1986)
Pre-drug bust, RDJ was one of the hottest up-and-coming actors of the 1980s, even landing coveted cover spots on teen mags with names like Sassy. It was during this time that he was a regular contender for everything from "teenage jerk" to "teenage heartthrob" to "teenage bff" and nearly won the later when he went up for the part of Duckie. The original script for Pretty in Pink called for Andie and Duckie to end up together, something that Molly Ringwald said she would have been okay with if John Hughes had given the part to RDJ.
Say Anything (1989)
There was really no other actor — except maybe Michael J. Fox — who better personified the "boy next door" in the 1980s than John Cusack. His casting as Clash-loving Lloyd Dobler was a perfect fit for Cameron Crowe's high school romance dramedy, but Cusack did have to battle some competition for the part. Crowe had actually offered the part of the kick-boxing romantic to Downey Jr., but he didn't like the script and opted to work on the films True Believer and Chances Are that year instead.
Cry-Baby (1990)
RDJ already had a serious pompadour going on around this time and had shown his troubled youth side in Less Than Zero, so a role in the John Waters' 1950s-era satire should have been a given. Waters was considering both RDJ and then-unknown Jim Carrey for the lead part, but after seeing Johnny Depp in a teen magazine, he offered the young actor the part, sending RDJ home cryin'.

Edward Scissorhands (1990)
It's probably safe to say that RDJ wasn't the biggest Johnny Depp fan in 1990. Again the two actors were up for the same part, this time gunning for the role of knife-handed weirdo, Edward Scissorhands. While 20th Century Fox was urging Tim Burton to go after Tom Cruise, the director was considering Downey Jr. for the part. Then Johnny Depp happened. Burton hadn't seen Depp's work before, but said he was impressed with the actor's ability to act "with his eyes," and from then on RDJ was out and Burton and Depp were free to begin their decades-long collaboration.
Wild Things (1998)
Considering the seedy plot of Wild Things and RDJ's less than outstanding reputation, this casting would have been a pretty good fit in 1997. At least that's what the movie's director, John McNaughton, thought. The director said that both he and the studio wanted RDJ for the part of their ménage à trois-having school guidance counselor, but the insurance to cover the bad boy actor was just too much.
The production company offered to put up some of the money, but "we couldn't make it work," says producer Rodney Liber. "There were just too many lawyers and insurance people and bond-company people involved."
America's Sweethearts (2001)
The early 2000s as RDJ would put it "were when my addictions were at their very worst." The actor was still working, though, and on one of the most popular shows at the time nonetheless, co-starring in Ally McBeal. Amazingly, he was still getting offered big movie parts, too, and was co-writer Billy Crystal's first choice for one of the male leads in his rom-com America's Sweethearts with John Cusack, Julia Roberts, and Catherine Zeta-Jones. After the actor was arrested in November of 2000, however, producers ultimately decided he was too much of a liability and replaced him with Hank Azaria.