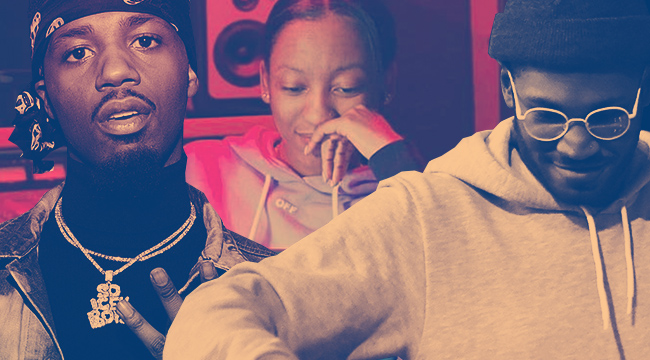 What would hip-hop be without its beatmakers? Just poetry I guess. Poetry is fine. I like poetry. But I think we can all agree that lyrical prose is much better when combined with spine-busting drums, sinister synth noises, and lush guitars. We're currently in the midst of renaissance of young MCs who are dropping genuinely thoughtful and dynamic projects. Artists like Vince Staples, Chance The Rapper, Joey Badass, Lil Yachty, and Rae Sremmurd have all released compelling projects lately — but what's the force driving so many of those albums? Inventive production and new sounds.
There's a new, very young crop of producers coming up right now that are changing the entire sound of hip-hop and creating entirely new trends on a weekly basis. You may not know they're names, but chances are good that you've lost your mind to one of their beats in the club, in the car, on the beach and in the crib. Whether they hail from Atlanta, Los Angeles, London, Montreal and just about everywhere else there's an Internet connection, here are ten of the best hip-hop producers under the age of 25 in the game today.
Metro Boomin
Forget age for a second. There's a good argument to be made that Metro Boomin is the single most impactful and influential producer in hip-hop today. There are a few contenders out there for the title — Mike Will Made It, Oliver "40" Shebib, Sounwave to name a few — but between his work with Kanye West, Drake, Post Malone, ScHoolboy Q, the album Drop Top Wop he produced for Gucci Mane, the collaboration record Savage Mode he created with 21 Savage, and damn-near everything he's done with Future, it's hard to turn on a hip-hop station for more than an hour without hearing one of his compositions. All those flutes you suddenly hear in damn near every song? Yeah, you can go ahead and thank Young Metro for that.
Murda Beatz
Murda Beatz has been downright dominant in 2017. His most prominent work has come on Drake's globe-trotting project More Life where he was gifted with one of the best producer tags in a minute — "Murda on the beat so it's not nice" — on the song "No Long Talk." The young producer from Canada has recently hooked up in the studio with Gucci Mane for "Stutter," Travis Scott on "Butterfly Effect," and Nicki Minaj's clap back at Remy Ma "No Frauds." He hasn't just been prolific, he's producing music at a level of quality that puts in a conversation as one of the hottest beat makers in the game today.
Steve Lacy
One of the best albums of 2017 — and my personal favorite thus far — is Kendrick Lamar's DAMN. Just like his previous projects, K Dot leaned heavily on TDE regulars Sounwave and Top Dawg himself to make the music, but for one of that record's standout tracks "Pride," he turned to 18-year old guitarist Steve Lacy. Even more incredible, The Internet member put together his addition to one of the year's most pored over albums using the GarageBand app on his iPhone. "I showed Anna Wise how to record her vocals, and she recorded this whole idea over these acoustic guitar chords I came up with, a small little drum loop that I made, and then I took her vocal stems and made a beat over it," he explained in an interview on Beats 1. Having also worked with J. Cole on 4 Your Eyez Only, and with a solo album Demo to his name, it's incredible to think that Lacy is just getting started.
Travis Scott
These days, Travis Scott is more widely recognized as a rap superstar than a pure producer — scoring a No. 1 album (for two weeks in a row no less) will kind of do that for you — but make no mistake, it's behind the boards where his truest genius lays. Just look at his work outside of his own smash successes Rodeo and Birds In The Trap Sing McKnight, on albums like Kanye West's Yeezus, Jay-Z's Magna Carta Holy Grail, Vince Staples' EP Hell Can Wait, or Rihanna's Anti to name just a select few. I mean, how many hip-hop producers out there can say they worked with Madonna? The man really can do it all.
Kaytranada
Kaytranda is a compelling artist in his own right. The Haitian-born Canadian released his debut album 99.9% last year to extremely positive acclaim, and then picked up Canada's prestigious Polaris Prize to boot. His remix game is pretty strong too, but as a pure producer, he's been rolling out gold for more than a minute. Whether it's been with hip-hop legends like Mobb Deep and Mary J. Blige, superstars of the moment — he was responsible for my own personal favorite track off Chance The Rapper's Grammy award-winning tape Coloring Book, the song "All Night" — or up-and-comers like Anderson .Paak and Goldlink, he's usually able to bring something to the table that inspires the best from the artists he's working with. Check out his most recent collaboration, an EP titled Ocean & Montana that he created with Buddy.
Wondagurl
Wondagurl or Ebony Naomi Oshunrinde, first made a name for herself by putting together the music that became Rihanna's runaway hit "B*tch Better Have My Money." Even before that success, she was already making beats for some of the hottest names in hip-hop including SZA, Young Thug, and Drake. She contributed two different tracks Drizzy's 2015 platinum blockbuster If You're Reading This It's Too Late. Even more impressive than that, she scored a production credit on Jay-Z's Magna Carta Holy Grail album when she was just sixteen years old. Since then she's kept busy assisting Travis Scott on Birds In The Trap Sign McKnight and Big Sean's I Decided.
Zack Sekoff
Peep the credits on Vince Staples fantastic new album Big Fish Theory and you'll notice that one name keeps popping up over and over again. Zack Sekoff, the 21-year old graduate of Yale had a hand in creating the music for half the songs on that record, including standouts like the opening track "Crabs In A Bucket," and the outro number "Rain Come Down." Talking to Pigeons and Planes, Sekoff said that the sounds on that record, "Mostly came out of a mutual curiosity about what a rap album could be. Thinking about what the limits of rhythm and tempo might be. I think we had built up a friendship where we were willing to suggest out-of-the-box things to each other. "
Wheezy
Young Thug is without a doubt one of the most adventurous hip-hop artists working today. More often than not, his most eyebrow-raising sonic excursions are done in collaboration with Vicksburg, Mississippi native Wheezy. Thugger and Wheezy's partnership goes back quite a long way and he's nabbed credits on each of his most acclaimed projects, including Barter 6, Slime Season 3, Jeffrey, and this year's Beautiful Thugger Girls. Talking to Fader, he explained that, "When I make a beat, I try not to put a lot in it, because I know to leave a lot of space open for the words. I try not to oversaturate it." Working with someone as vocally expressive as Thug, that approach makes a whole helluva lot of sense.
Young Chop
The impact of the Chicago drill sound simply wouldn't have be the same if not for Young Chop. Though his frequent collaborations with Chief Keef, and especially on the breakout hit "I Don't Like," Chop helped define an entire movement before he'd even reached an age that he could legally buy a drink. Since he started drawing eyeballs back in 2012, the young Chi-town native has worked with some of the biggest spitters going, artists like Rick Ross, 2 Chainz, Gucci Mane, and DJ Khaled. Nevertheless, he still maintains close ties with Keef and worked with him on two cuts from his most recent release Thot Breaker.
Mura Masa
Even for people who pay attention to the credits sections in album entries on Wikipedia, Mura Masa is probably not a name that most American hip-hop observers would recognize. Born on the Isle of Guersey just off the coast of Great Britain, Mura Masa has become an ascendent player in the UK Grime scene over the last few years. He nabbed his biggest success yet when the song he co-wrote with Stormzy "First Things First" that was included on the rapper's smash album Gang Signs & Prayers reached No. 1 on the charts in England. For what it's worth, Mura Masa's own self-titled, debut album dropped today actually.