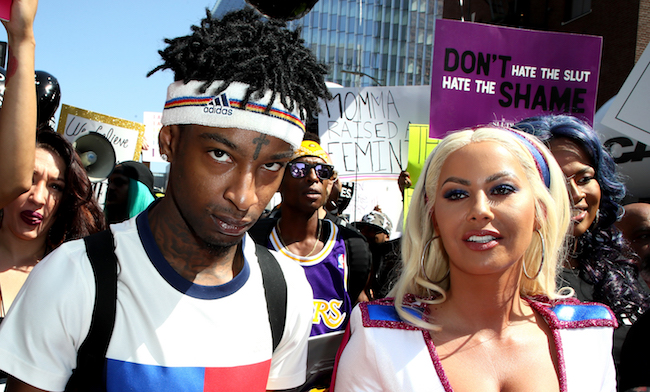 For three years now, Amber Rose has held her annual Slut Walk in Los Angeles to raise "awareness about sexual injustice and gender inequality." Each year the event has seemingly grown larger, and this year she has the support of one special someone that's turning heads everywhere: her boyfriend 21 Savage.
Yes, 21 was there supporting his girlfriend and he was front and center, right next to Amber as they marched through the streets of LA. Amber, of course, promoted the event with her internet-breaking and bush-flaunting bottomless photo back in June, and accomplished exact what she was setting out to accomplish as she got the whole world talking about her picture and her walk. This year, she has taken the walk one step further as she's live streaming it on her website here.
For 21, he has yet to post any photos himself on any of his social media accounts, but plenty of fans have noted his presence online and posted their own pictures as he is easily recognizable in a multi-colored headband and with his trademark dagger tattoo on his forehead. He was seen holding signs and taking in the sights with Amber, who herself is dressed as "Captain Save A Hoe," with a cape and a long, blonde wig.
Check out some pictures of 21 and Amber at the third annual Slut Walk below.