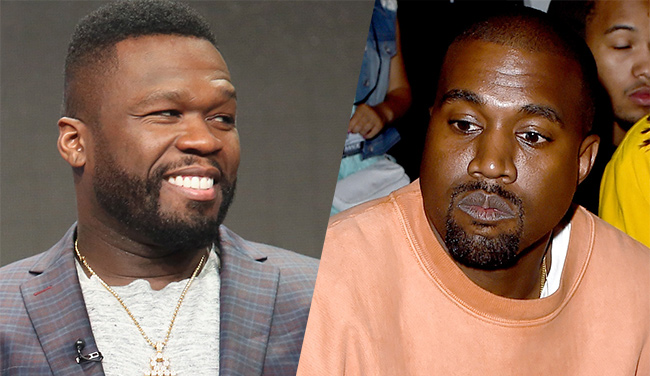 Even in the wake of Kanye West's forceful hospitalization for sleep deprivation and erratic behavior, 50 Cent's chill still remains missing. The rap bully got on social media early Tuesday morning and shared his thoughts on the rapper whose music he once called "weird as sh*t." And as you might have guessed, it wasn't exactly the nicest.
Showing initial concern, Fif posted a screenshot of TMZ's report with the glaring headline, "Kanye West Hospitalized Handcuffed In Ambulance" and captioned the image, "Damn [curious emoji] what the f*ck is going on. [bandaged head emoji]." And then hashtagged his vodka brand along with, "LOL."
Some fans felt the "LOL" was a little too distasteful and went all the way in on the Power actor, telling him to "shut the f*ck up" while reminding 50 that Kanye was on an arena tour when he fell ill while the G-Unit rapper is still "performing in ratchet ass clubs." Another fan wondered why Fif was "beefin' with the whole universe."
It almost seemed like 50 and Kanye had made amends following years of slander from Fif. Earlier this year, Kanye reached out to his one-time rival by gifting him with a pair of "Pirate Black" Yeezy Boosts. Fif thanked the producer and encouraged fans to cop the kicks, writing on Instagram, "Shout out to Kanye he sent me these YEEZYs… you gotta get you a pair." He also attend the Yeezy Season 3 Fashion Show in February. Guess there was a falling out again, or maybe 50 Cent is who he is.