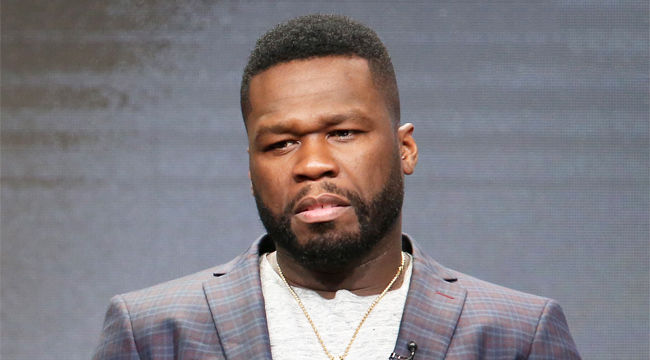 Even though he's one of the executive producers of Power, it looks like 50 Cent had absolutely no idea his magic stick was going to appear on this week's episode of the popular crime drama.
50 Cent plays "Kanan" on the hit television program and reprised his role as the brutal gangster to blast Power creator Courtney A. Kemp on Instagram. 50 was foaming mad that Kemp didn't censor his penis during that scene where he proved he was ready to pull off a jewelry heist by mutually masturbating with Jukebox's lean-loving girlfriend, Candie. Spoiler alert, I guess.
"This sh*t wasn't in the first three edits. All of a sudden wala..magic [stick]. Nah, y'all got me f*cked up," Fif wrote on a now-deleted Instagram post captured by Bossip. "So now my auntie G can't watch Power because my dick is debuting tonight. SMH you motherf*ckers. I wish somebody say some stupid sh*t right now. I am Kanan motherf*cker. Try me."
The rapper/actor continued with his rant by expressing his anger directly at Kemp, continuing, "Don't kiss my cheek, kiss my ass. This sh*t is not fun. Tell the people from STARZ stop calling my phone. You call now. I don't give a f*ck if you on the plane, b*tch." It's unclear whether or not Kemp ever made that call, but she did respond to Fif on social media and said Curtis isn't being at all truthful. "Ghost must die and 50 Cent must lie," Kemp wrote to Fif. The Power creator went on to claim that 50 actually signed a nudity waiver, adding, "You knew what we were shooting during 404. Yeah, that's your [eggplant emoji]. You signed the waiver like everybody else."
Sounds like Fif was just trying to drum up more publicity for Power, which was recently renewed for two more seasons after setting a record with this season's premiere. And since we're on the topic of Power, if Angela and Holly don't die in a double homicide next episode, I'm going to be pissed. If they can't take out both at once, then I nominate Holly.