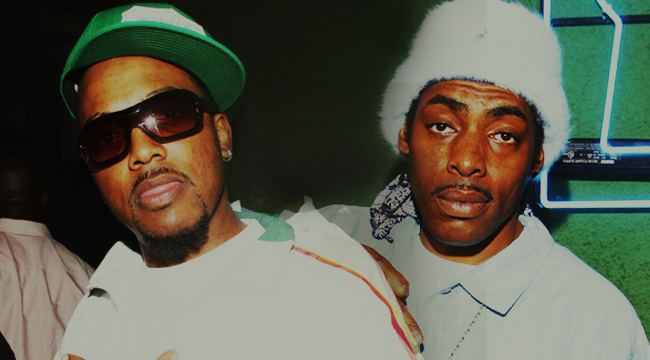 Hey, remember the '90s? Y'know, that time when rap was flourishing, record labels were flush with money and a single song could make a rapper a rich person overnight? Those of us old enough to live through the decade can easily remember how hip-hop made so much noise that radio, awards shows, and even middle America all had to recognize game when they saw it. Once culture at large bought into rap, they helped give rise to the first official crop of rap one-hit wonders.
This list often includes artists that were monumental figures in the genre… but how many people can name a Sugar Hill Gang song besides "Rapper's Delight"? Especially in the '90s, plenty of rappers managed one huge song that completely eclipsed their entire rest of their discography. When that happened, it left these artists trying to figure out just how to hell to repeat the feat. Some did, most didn't. They either continued making music in the shadows or put the mic down once they realized the light had gone off on their 15 minutes of fame, never to be seen again.
Candyman, "Knockin' Boots" (1990)
Even though Candyman made "Knockin' Boots" in 1987, it wasn't until 1990 that the Rose Royce-sampled record blew up mainstream-wise, spending 23 weeks on the Billboard Hot 100 chart and peaking at No. 9. He tried with "Knockin Boots Pt. 2," and Knockin' Boots 2001: A Sex Odyssey, but Candyman was never able to follow-up the original "Boots'" success. The West Coast rapper ended up launching his own label, Candyman Entertainment, in 2010 and recently dropped a greatest hits album.
Positive K, "I Got A Man" (1992)
Thirsty or savage? Positive K made lots of noise with his "I Got A Man" smash in 1992. The record peaked on the Billboard Hot 100 at No. 12 and had dudes everywhere answering "What your man gotta do with me?" when talking to unavailable women. The New York native is still in the music biz, most recently dropping the "Make It Happen Remix" featuring Greg Nice and Mr Cheeks of Lost Boyz.
Snow, "Informer" (1993)
It's outright impossible to think '90s one-hit wonders without thinking of Darrin Kenneth O'Brien, known as Snow, the white Irish dude behind the reggae smash of 1993, "Informer." That infectious song spent seven weeks atop the Billboard Hot 100 and earned Snow international recognition when the song charted all over the world. Since then, Snow pops up every now and then, most recently creating a hilarious jingle for Yahoo after CEO Marissa Mayer complained that Yahoo's hold music sucked.
Ahmad, "Back In The Day" (1994)
Ahmad stopped wishing he was a kid again, and accepted his destiny as a well-adjusted adult tasked with leaving the world a little bit better than he found it. After his "Back In The Day" jam in 1994, Ahmad went on to pursue his education, getting a BA in Sociology from Stanford, and is currently working on his Master's at USC. His LinkedIn has him as a "social worker, psychotherapist, entrepreneur, speaker, author, and hip-hop artist." Ahmad is also listed as creator of WeCLAP, an initiative to "empower communities by forming partnerships designed to explore and engage in social entrepreneurship, education, and advocacy." Pretty dope.
AZ, "Sugar Hill" (1995)
By no means is A f*ckin' Z a one-hit wonder to any hip-hop fan, but technically he is. The Brooklyn rapper known for his distinct voice and cadence only had one song chart on the Billboard Hot 100, the 1995 hit "Sugar Hill" featuring Miss Jones. Of course, AZ has put out countless albums since then, including The Firm album with Nas and Foxy Brown in 1997, and the gold-selling Aziatic in 2002. Fans are still waiting for that Doe or Die II though.
Coolio, "Gangsta's Paradise" (1995)
Coolio's "Gangsta's Paradise" was such a monumental record in 1995 that it was the first rap song to be nominated for a Record of the Year Grammy in 1996. Coolio lost, but did end up taking a Grammy for Best Rap Solo Performance. Since then, Coolio has had small bits and guest cameos in countless movies and TV shows, most recently Celebrity Big Brother and Celebrity Wife Swap. Last month, he was charged with a felony gun charge after he allegedly tried to get through TSA with a loaded gun. He faces three years in prison if convicted.
Luniz, "5 On It" (1995)
Luniz told everyone they had "5 On It" in '95 and we haven't forgotten. The Oakland duo experienced great success when their record dedicated to going halfsies on a dime bag peaked at No. 8 on the Billboard Hot 100 and ultimately went platinum. Now Numskull and Yukmouth relive the '90s with a couple of gigs across the country. Given this iconic weed anthem, these guys will never be short on fans.
Skee-Lo, "I Wish" (1995)
Skee-Lo wished he was a little bit taller in 1995 and probably still wishes for the same 21 years later. While he never did get with Leoshi or become a baller, Skee did do okay for himself following a five-year-court battle for the publishing to "I Wish." Now Skee gets every penny whenever the '90s hit is purchased or played today. That made for some nice cash in 2013 when Toyota licensed the song for a couple of commercials. And after falling into a deep depression some years back, Skee is now focused on his record label, Skee-Lo Muzik and recently released the album Fresh Ideas.
Camp Lo, "Luchini AKA This Is It" (1996)
I know, okay?! It's f*cking blasphemous and I belong in the fiery pits of hell for including Camp Lo on this list. I get it. But the fact of the matter is "Luchini AKA This Is It" was their only charting single on the Billboard Hot 100. The classic peaked at No. 50 in '96 and that's been it since. No, "Coolie High" didn't break. But just because they haven't made another splash on the Hot 100 doesn't mean they fell from the face of the earth. Earlier this year, they joined Rick Ross and Mack Wilds on the J.U.S.T.I.C.E League's "Money Dance II." And before that there was their "80 Blocks From Tiffany's" work with Pete Rock. Currently, Geechi Suede is prepping the release of his debut solo album, 0.9 NyteLife FM December 2nd, while a Camp Lo album drops 2017.
Nonchalant, "5 O'Clock" (1996)
20 years later and Nonchalant's "5 O'Clock" remains as relevant as ever. The DC rapper had listeners' ears with her thought-provoking single about inner-city violence and now keeps an audience rapt by spinning the ones and twos as a DJ.
Lord Tariq & Peter Gunz, "Deja Vu (Uptown Baby)" (1997)
When it was all about Brooklyn and the other boroughs, Lord Tariq & Peter Gunz gave the Bronx an anthem with "Deja Vu (Uptown Baby)" in 1997. The duo reached No. 9 on The Billboard 100 and became a staple on '90s playlists. Unfortunately, the Steely Dan-sampled song cost the Lord Tariq and Peter Gunz 100% of their publishing. Now, Peter Gunz, whose son is YMCMB's Cory Gunz, can be seen on VH1 ratchet reality show Love & Hip Hop, while Lord Tariq keeps a much lower profile.
Tracey Lee, "The Theme (It's Party Time)" (1997)
Tracey Lee scored himself a hit with 1997′ "The Theme (It's Party Time)." Now, the 47-year-old is an entertainment attorney and a professor. Lee teaches the Business of Music at Coppin State University. But when he's not in the classroom, the one-hit wonder can be found traveling the country and performing '90s-centric club gigs.
Queen Pen, "Ain't A Party" (1997)
A party wasn't a party unless Queen Pen ran all through it in 1997. The New York rapper popped up a few years ago to talk about being a domestic abuse victim. "I've had my teeth knocked out, gotten stitches, jumped out of cars on the parkway and jumped into stranger's cars. I've run out into the hallways in my underwear banging on neighbor's doors," she revealed on The Bill Cunningham Show in 2012. The "Ain't A Party" hitmaker has been quiet ever since.
Sporty Thievz, "No Pigeons" (1999)
Sporty Thievez gave guys the perfect rebuttal to TLC's "No Scrubs" with their 1999 response record, "No Pigeons." Now dudes hanging out the passenger side had something to say when women called them bummy, broke busters. "Pigeons" ended up being a hit in the late '90s, but the trio suffered a major blow when member Marlon Brando was struck and killed in 2001. Remaining member King Kirk still dabbles in music while Big Dubez dabbles in clothing and other ventures.