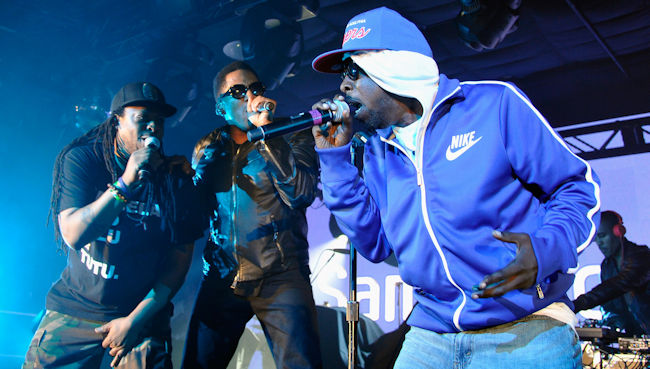 New York hip-hop legends A Tribe Called Quest have been making the rounds of the festival circuit this Summer, playing what they are calling some of the final shows of their lengthy career. Their sets at Pitchfork in Chicago, Panorama in New York and FYF in Los Angeles garnered massive praise from nearly everyone who caught them, which is why their absence from Outside Lands this weekend in San Francisco was such a blow.
Originally, the group was scheduled to perform on Friday, but their set was moved to Saturday before being cancelled altogether. Rumors swirled about what the cause for the shift and eventual cancellation swirled around the Internet, and now the band has finally explained their absence in a lengthy apology note, which you can read below.
Dear Questers,

We want to sincerely apologize to you for our absence at the Outside Lands Music Festival. Your love, dedication and support of our music is important to us. Our performance at the festival has been months in the making and in those months we have been fraught with an emotional and eager excitement to touch the stage in the place where Phife Dawg made his home.

Upon the eve of playing for you, we performed not to a mixed crowd of festival patrons but to a filled house of solely Questers. It was humbling. The beautiful Red Rock amphitheater was filled with voices helping us get through a difficult performance without our brother Phife. You would think that with every performance we heal a little more and the sadness is easier to handle. Sometimes that is the case and sometimes the grief and loss is compounded. Although the house was filled with love and we felt it all, we also felt the huge void of Phife's absence. We walked off that stage deep in grief.

In show business there is a notion that the "show must go on" no matter what. Sometimes though, when you have lost someone close, you are riddled with the notion that there is no going on. That Friday morning upon traveling to San Francisco, a wave of grief was still on us and in that moment we could not see the "on" to go on to. Eventually though in face of loss you find that glimmer of light to bring you to your center and you find the "on."

We missed Friday but we found our "on" the following day. We wanted to play for you and we wanted to honor Phife's wife in their hometown. Unfortunately, everything did not come together before the closing curfew. For that, we are deeply sorry. We look to correct this and regain your confidence.

Actually, let us restate that — we will correct this and regain your confidence.

A special shout out goes out to Another Planet Entertainment, the promoter/organizer of Outside Lands.

They put together an incredible event that was enjoyed by many despite the fact that we were unable to add to that joy. We want to express our appreciation for their efforts and encourage our fans to continue to support them. And to those who traveled far and wide, we sincerely apologize and are looking for ways to make this up to you. We are fully aware that without you (the fans), we would not be where we are today. We appreciate you having our back during this challenging period.

We are not making excuses for our absence. We just wanted you to know that we are still grieving and yet we want to honor each and every one of you for 28 years of music love. Thank you for the support.

Sincerely, Tribe
While those who had hoped to catch them at Outside Lands will most likely remain bummed about the no-show, you have to admit that their reasoning for not making it to the stage is totally understandable. Human beings deal with grief in different ways, and as much as it hurts, we as fans have to respect that.