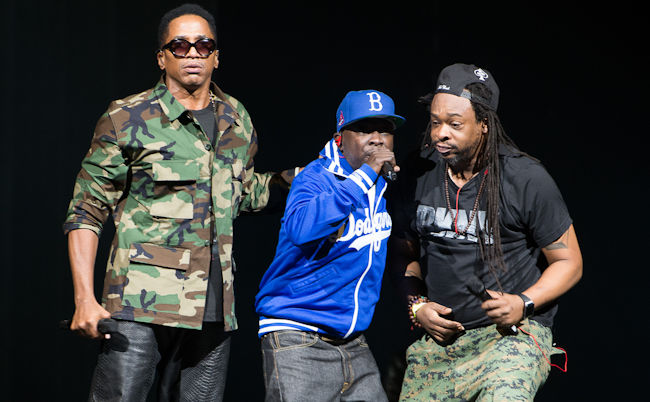 For fans of A Tribe Called Quest, news of the group's upcoming surprise reunion album is bittersweet. There's the relief and joy that comes with knowing the group reconciled with one another after all these years and even went into the studio together to record a new project. But, there's also the one missing piece that creates a gaping hole where the project can't be fully enjoyed — the void left by the untimely death of group member Phife Dawg earlier this year. But, fans can take solace in knowing he went out giving everything he had to the project.
In a newly published profile by The New York Times, group members Q-Tip and Jarobi White a lot of intimate info on the album, titled We Got It From Here, Thank You for Your Service, which is slated to release next Friday, November 11. Much like their Native Tongue brethren De La Soul, the group invited a notable number of musicians to help record the project and it appears most were happy to oblige. Kendrick Lamar, Elton John, André 3000, Jack White, and fellow Tongues member Busta Rhymes are the biggest names revealed. Part of the process meant that each and every person who makes an appearance on the album couldn't work remotely. As a rule, everyone was required to make the pilgrimage to Q-Tip's million dollar studio located in his New Jersey home. "If you wrote your rhyme somewhere else," Busta Rhymes said, "you still had to come back and lay your verse in Q-Tip's house."
He continued, "So we pretty much did every song together. Everybody wrote his stuff in front of everybody. Everybody spat their rhymes in front of each other. We were throwing ideas around together." That was the process for everyone, including the original group members, even though they were spread around the country. Making the personal connection again was key and it had to start with the original four group members and it did after they first reunited in November 2015 for a performance on The Tonight Show Starring Jimmy Fallon.
It was from that point forward that the group began to move as a unite again. In order to do that, fences had to be mended from their fallout when the group disbanded back in 1998. And, it had to be done in person. So, Phife made the trek from Oakland to Jersey, sometimes staying weeks at a time so he and Tip could clear the air."He came here, and we was bonding," Q-Tip said. "We went through all of the stuff and apologized, and it was just so good, man."
Phife then began to make back and forth trips to work on the project even though he was doing battle with diabetes and squeezing in dialysis treatments multiple times per week. Nobody knew how little time the MC actually had left. "I had no idea that his days was numbered," Tip said. All they really knew was they were finally back in a good space and the music was coming together just like it had when they were still teens kicking it on Linden Boulevard. "I really believe he did the traveling back and forth, not for this record, but to make sure that me and him, Malik and Jon, were O.K.," Tip said, using everyone's born name, showing emphasis on how long they've known each other. And finally, if it were only for days at a time, they were back moving as a unit.
But, everyone now recognizes how much the whole process may have taken on Phife. "Doing this album killed him," Jarobi said. "And he was very happy to go out like that." The album's title is said to be one Phife offered up and the group decided to stick with in his absence, even though they're not completely sure what it means. Since it's left to interpretation, it's not hard to imagine the phrase being a cryptic piece of foreshadowing by the universe or a higher power that neither the members nor Phife truly knew would take on such greater significance in this new light.