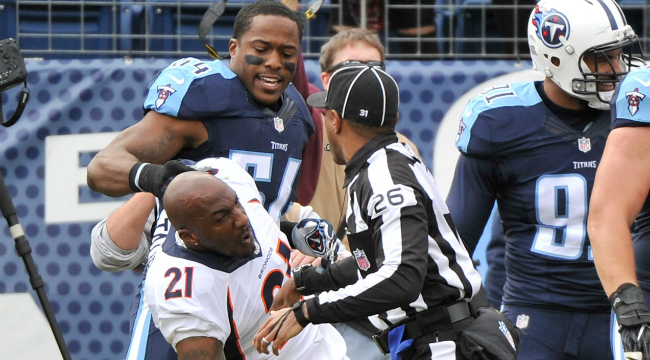 Aqib Talib and Harry Douglas went at it on Sunday afternoon after Douglas went low on Chris Harris. Douglas' hit looked like it was meant to take out Harris' knee. On the following play, Talib went after the Titans' receiver and a scrum broke out between the two teams.
Harris ended up being fine, and Tennessee beat Denver, 13-10. After the game, Talib and Harris understandably weren't over what went down with Douglas. In his postgame presser, Talib said that he shares an agent with Douglas, and the next time they see one another in Atlanta, he is going to "beat his ass."
Additionally, Harris took to Twitter once all the dust settled and said that he thought Douglas' hit was going to lead to a serious knee injury.
Harris also said that he thought Douglas' hit stemmed from him being frustrated because he couldn't get anything going against the Broncos' secondary.
Even if Denver was able to beat Tennessee, odds are Talib and Harris would have been this furious no matter what. It was a dirty hit that looked like it was going to sideline Harris for some time, so it's no surprise that the duo are angry and Harris expects that Douglas will face a fine from the league.