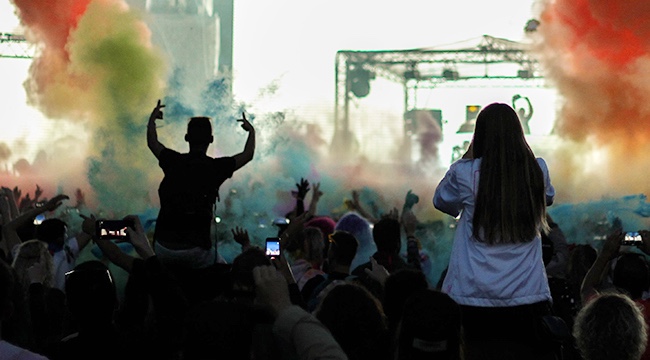 The first music festival I ever went to was Rock The Bells. In 2004, A Tribe Called Quest was on the first of their reunion tours, and I excitedly determined I had to go. I wasn't disappointed. However, Rock The Bells is no more. It was discontinued in 2013 along with its sister festival, Paid Dues, due to low ticket sales. At the time, the lineups were stressed to their breaking points by a growing divide in hip-hop along generational lines. Older fans groaned at the inclusion of newer artists like Kid Cudi and Wiz Khalifa, while younger fans were turned off by the relatively staid, '90s-centric headliners performing albums that had come out when they were still babies.
Fortunately, the schism has since been bridged as more artists have begun to create their own festivals like The Roots Picnic, where they can better market to their existing fanbases who are more receptive to their favorite artists' curation. More promoters have learned from the mistakes of Rock The Bells and Paid Dues to better serve the splintered market — rather than booking niche indie artists like Atmosphere and Deltron 3030 alongside more current artists like 2 Chainz and Mac Miller, newer festivals like Rolling Loud are curating Soundcloud standouts with local rising talent to keep vibes fresh and fun. These are the best festivals for hip-hop fans of any generation.
Roots Picnic
Philadelphia, PA
Perhaps the best-known artist-curated festival around, this annual fest generally features a broad selection of not just straightforward rap, but also soulful R&B, bluesy Americana, and experimental beats sets from the top producers in music. The most recent Roots Picnic included acts as wide-ranging as Future, Jidenna, Willow Smith, Lil Uzi Vert, Blood Orange, and even Usher.
Soundset
Minneapolis, MN
Soundset has perhaps the heaviest underground hip-hop sensibility of any fest around, although it's slowly expanded its music palette over the years. Starting out in 2008 as a showcase of purely indie acts like Little Brother, Dilated Peoples, and Hieroglyphics, its since expanded its curation to include more contemporary artists like Brockhampton, Migos, and Logic on its 2018 lineup.
Steez Day
New York, NY
This newer festival was founded by New York's Beast Coast crew in honor of their deceased founder Capital Steez. As such, it usually headlines with Beast Coast members The Underachievers, Flatbush Zombies, and Pro Era. This year's expanded lineup included special guests ASAP Mob, Danny Brown, and Saba, along with newcomers like Jay Critch and MadeinTYO.
Woo HAH! Beekse Berge
Netherlands
Woo Hah! Festival is like Europe's answer to Rolling Loud, featuring a mix of local talent alongside big-name American headliners such as J. Cole, ASAP Rocky, and Migos. While burgeoning US talent like Playboi Carti, Juice Wrld, 6lack, and Ski Mask The Slump God made up much of the top portion of the bill, the undercard gave plenty of spotlight to European acts like Sineaux, Lion Kojo, Leafs, Zwangere Guy, and Boef.
Afropunk
Brooklyn, NY / International locations
A festival for rebels and activists alike, this festival isn't restricted to hip-hop, instead focusing on acts from multiple genres with a socially conscious, subculture bent to their music. Started after founded James Spooner noticed a distinct lack of color in the subculture community, the festival initially highlighted punk rock bands such as Fishbone, Dead Kennedys, Death, and Bad Brains, but expanded to include artists like Chuck D, Danny Brown, and Shabazz Palaces, as well as touring further locations like Johannesburg, South Africa.
Made In America
Philadelphia, PA
Another newer festival founded by none other than Jay-Z, Made In America was one of the first festivals to stream online. While its provenance would suggest a hip-hop-heavy selection, Jay instead wanted to show how American culture is a melting pot of different cultures and styles, so booking The Chainsmokers alongside J. Cole is just one way to illustrate that connectedness. The 2018 lineup is headlined by Nicki Minaj, Post Malone, Zedd, Diplo, and Janelle Monae, further highlighting the multicultural nature of the festival.
ONE Musicfest
Atlanta, GA
Fashioned to "feel like a big family reunion" according to the Huffington Post, Atlanta's ONE Musicfest often does what prior fests initially had trouble doing: Connecting multiple generations of hip-hop fans through a shared interest in styles and sounds. Music fans who love The East Side Boyz, YoungBloodz, and Yin Yang Twins can rub shoulders with fans of Big KRIT, Big Sean, Goldlink, and Rapsody and feel the same DNA flowing from the hip-hop of yesteryear through the top-tier artists of today.
Trillectro
Washington, DC
Founded in 2012 to highlight electronic acts and hip-hop artists in unison — both genres share roots in the Black-founded counter culture of the 1980s — Trillectro often catches newer rap acts as they rise to prominence, placing them alongside some of the more innovative names in EDM for a unique experience that brings fans from all over the country. Its 2018 lineup delivers on that promise in big ways, with Everyday People and RL Grime sharing a bill with rising stars like Rico Nasty, Maxo Kream, Smokepurpp, and all tied together by closer SZA, who's dabbled in both genres on her way to bringing R&B back to mainstream viability.
Rolling Loud
San Francisco, CA / Miami, FL
The most rap-heavy festival on the list by far, this one often runs the gamut of the genre's biggest stars and its simmering underground. While headliners can include Travis Scott, Wiz Khalifa, and Rae Sremmurd, Rolling Loud is also the best place to check out rising stars like Lil Skies, Gunna, Mozzy, Sheck Wes, Kash Doll, Cousin Stizz, Saweetie, Wifisfuneral, Tierra Whack, Towkio, and Asian Doll. Checking out the undercard is like gazing into a crystal ball of which artists will dominate the hip-hop world in twelve months' time.
Summer Jam
New York, NY
The oldest and original, Hot 97's Summer Jam is where the top names in hip-hop gather to pull out all the stops. Even though the internet has played its part in many artists' rise to the top, terrestrial radio is still the most coveted cosign of rap dominance, where Jay-Z debuted "Takeover," Nicki Minaj made headlines by not performing, and where Kendrick Lamar headlines just months after winning a Pulitzer Prize.
Powerhouse
Los Angeles, CA
The West Coast's answer to Summer Jam, Powerhouse often puts on for the biggest acts at the height of their ascendence. The 2018 lineup included NERD, Logic, Nipsey Hussle, and Miguel, as well as putting on for local California artists still on their grind like Kyle, G Perico, Mozzy, Cozz, and Saweetie.
Wireless Festival
Harringay, United Kingdom
Okay, I know grime isn't technically hip-hop — or so grime enthusiasts keep saying. However, both genres' shared roots as outgrowths of Jamaican sound system culture and the prominence of rapping as the primary vocal styling make them pretty much indistinguishable to the casual fan, so Wireless gets the inclusion due to its spotlight on grime MCs like Stormzy, Wiley, Wretch 32, J Hus, Big Shaq, and Giggs alongside American standouts like Migos, French Montana, Drake.
Brooklyn Hip Hop Festival
Brooklyn, NY
The Brooklyn Hip-Hop Festival has grown over the years, but never strayed from its roots celebrating local New York artists and their affiliates. Nas, Mobb Deep, Common, and Talib Kweli are fixtures, while the 2018 show featured Skyzoo, Torae, Dyme-A-Duzin, Statik Selektah, Pharoahe Monch and the return of Black Star.
Camp Flog Gnaw Carnival
Los Angeles, CA
https://www.instagram.com/p/Bi5Jwe_ldMQ/?taken-by=campfloggnaw
Another artist-owned festival, Tyler The Creator's annual "carnival" gives equal weight to high profile rappers like Mac Miller, Kid Cudi, ASAP Rocky, and Vince Staples as it does to surf punk like Fidlar, EDM like Justice, and R&B like Solange. While the 2018 fest lineup has yet to be announced, expect to see The Internet and Tyler himself prominently featured.
Dreamville Festival
Raleigh, NC
https://www.instagram.com/p/Bk8FETDFuxK/?taken-by=dreamvillefest
A new festival curated by North Carolina's J. Cole, Dreamville takes its name from the label he founded and will likely feature many of his artists, including Lute, Omen, Bas, Cozz, Ari Lennox, JID, and Earthgang.
Summertime In The LBC
Long Beach, CA
Named after the seasonal staple from Dove Shack (not Nate Dogg), this local fest benefits from its location, as Long Beach, CA has produced some of the biggest names in hip-hop. Likewise, its proximity to neighboring Compton and South Central make this fest a hotbed for G-funk acts and the bands that inspired them. This year's lineup was headlined by Snoop Dogg, Ice Cube, and The Game, but also prominently highlighted the bands they grew up on, like The Isley Brothers, The Dramatics, Midnight Star, and The Dramatics.
Smokin' Grooves
Long Beach, CA
Sharing its Queen Mary venue with Summertime In The LBC, this fest caters to the YGs that may not get too excited about what we in South LA call "uncle music." Where Summertime focuses on the local legends that have sprouted from the small city by the beach, Smokin' Grooves expands its reach to include G-funk adherents of the younger generation like NxWorries, Thundercat, Smino, and Masego, and soulful contemporaries of grooving R&B legends like Jhene Aiko, H.E.R., Alina Baraz, Miguel, and DVSN.