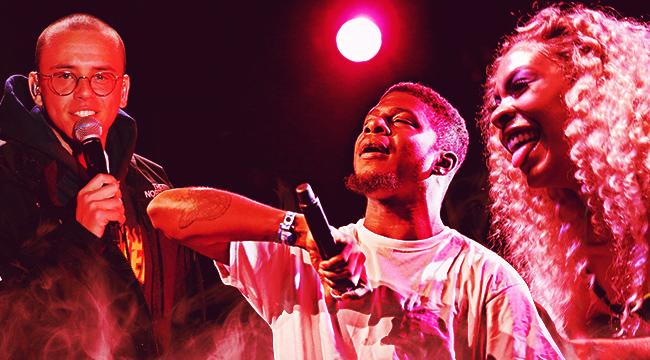 Hip-hop is moving as quickly as ever. Luckily, we're doing the work to compile the best singles of the past week and highlight them in one space for you. Eminem left smoke in his trail after his surprise Kamikaze release that jolted a relatively slow week of rap music — but that doesn't mean Air Unit 313 was the only one to pay attention to this week.
Fellow hip-hop legend E-40 celebrated a whopping twenty-five albums with a new video featuring young rhymers Vince Staples and G Perico, and Jay Rock dropped off a remix from his Redemption album.
E-40 Feat. Vince Staples & G Perico "Ain't Talkin' About Nothing"
Pardon the irony of a track called "Ain't Talkin' About Nothing" on an album called Gift Of Gab. After the minimalist groove drops, you'll be too busy two-stepping to E-40's bouncy collaboration with Vince Staples and G Perico to even care. Gift Of Gab is E-40's twenty-fifth album, and he still sounds as spry as ever over the buzzing synth and slapping drums. He hung with Vince and Perico, who both seem well on their way to having their own lengthy careers while being true to the west coast sound.
Boogie, "Deja Vu"
Speaking of west coast upstarts, Boogie recently delivered a track called "Deja Vu," which is a short but potent preview of what the hardworking Compton rhymer has been up to while crafting his big debut album. He hinted on Twitter that he may have something in the works for October, and if the bluesy, harmonious "Deja Vu" is any indication, it's going to be one of the best albums of the fall.
Mick Jenkins, "What Am I To Do?"
Speaking of best albums of the fall, it feels like Chicago's Mick Jenkins is trending in that direction. After touting his lyrical supremacy on "Bruce Banner," he doubled back with "What Am I To Do," a glorious Kaytranada-produced track where Mick rhymes free associatively on wack rappers, corrupt politicians, and how dedicated he is to his craft. He delves into a speedy flow toward the end of the sterling track before pondering, "what's a n—- to do?" Keep dropping fire, that's what.
Logic, "YSIV Freestyle"
Logic isn't going to stop until the world recognizes his lyrical ability as he gears up to release his new album, Young Sinatra IV. On the heels of his "The Return" track comes "YSIV Freestyle," where he gets busy with a dizzying display over Method Man's classic "I Bring The Pain" instrumental. Logic has an image as a good guy, but he resolved to dispense some lyrical pain of his own while questioning his critics:
"They say they want the old Logic, the one that flow like a faucet
I'm still the same me, they just don't believe it like they agnostic
If I spit over the boom bap, they perceive it as nostalgic
But the truth is my subject matter is still the same
Production selection is still flame
But they love you on the come-up 'cause you ain't tainted by fame"
Rico Nasty, "Wanna Do"
Hip-hop editor Aaron Williams surmised that Nicki Minaj should put her mic where her mouth is and do some collaborating with young, upcoming women rappers. Rambunctious DMV rebel Rico Nasty would be a great start, and she showed why on "Wanna Do." Rhyming over a downright felonious bass groove, the Nasty rapper spits with the kind of passion that hints that she may have heard Nicki on "Monster" more than a couple times. Even if the collab never happens, Rico will be just fine in sugar land.
Azealia Banks, "Pyrex Princess"
This is why Azealia Banks' long-suffering, epitome-of-loyal fans want the Harlem native to simply keep it to the music as much possible. She has the rhyming ability and eclecticism to literally be at the top of the rap game, as "Pyrex Princess" showcases. She swaggers over the enchanting beat, rapping with full confidence and stirring wishes that maybe, just maybe she can fulfill her full potential as an artist.
Ro Ransom, "Might Go" Feat. Kensei Abbot
A year after dropping his Momentum album, the Harlem-raised Ro Ransom is gearing up to drop some new. Yesterday he announced his Possessed project, which will be out in the coming weeks, and dropped off "Might Go" as well. The upbeat, melodic track shows Ransom at his beat-riding best, careening around a trunk-rattling 808 with a fun, sing-songy flow.
Jay Rock Feat. Rich The Kid, "Rotation 112th (Remix)"
It looks like Jay Rock is following in TDE comrade Kendrick Lamar's shoes by collaborating with Rich The Kid on a remix. This time it's Rich The Kid featuring on a Jay Rock banger, as he lent vocals to "Rotation 112th" from Jay Rock's Redemption album. Rich was an ideal addition for the energetic track, riding the skittish hi-hats and quaking drums with finesse.