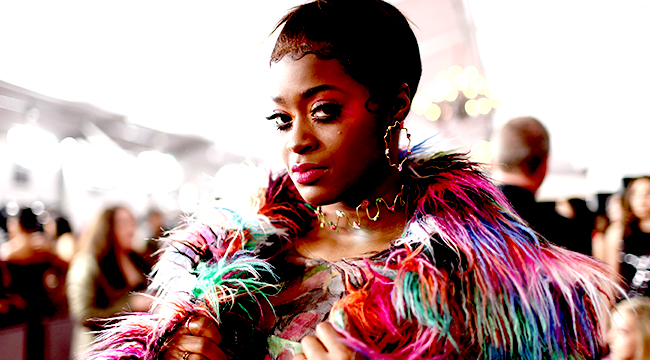 This week, along with Mick Jenkins, J.I.D and Migos videos, Tierra Whack dropped another single and Freddie Gibbs and Madlib dropped off the title track from their upcoming Bandana album. Elsewhere, Lil Xan defied his label with the release of a YBN collaboration, while Masta Ace and Marco Polo dropped off their first music since A Breukelen Story. There are also posthumous tracks from Fredo Santana and Bankroll Fresh. Check out all this and more below.
Tierra Whack, "Gloria"
Tierra Whack dropped her third single in as many weeks with "Gloria," a minimalist single where her tongue-twisting flow and a seamless transition between crooning and rhyming are on display. With the quality that she's given us we're all for Whack releasing a single every week — forever, if she wants to.
Lil Xan Feat. YBN Nahmir, YBN Almighty Jay & $teven Cannon, "I Might"
This week, Lil Xan decided to bypass his label and release the original version of "I Might," which features two members of the YBN crew as well as Cincy-born, LA-based rapper $teven Cannon, who was on the original track. It's unclear why Xan's label wouldn't want two members of an in-demand movement to jump on the song, but what is clear is that he's fed up and giving his fans what they want on the surging single.
Freddie Gibbs & Madlib Feat. Assassin, "Bandana"
MadGibbs' Bandana album should have a release date any day now after the title track was released this week. Madlib whipped up a vocal loop that sounded straight from a netherworld which was ripe for Gibbs to talk his talk and further whet the appetite for Bandana after last week's release of "Flat Tummy Tea."
Jay Sean Feat. Gucci Mane & Asian Doll, "With You"
It's been a while since we've heard from former Cash Money artist Jay Sean, and today the newly signed Republic Records artist is getting us reacquainted with the help of some So Icey partners. He croons to a woman he can't get out of his mind while Gucci and So Icey Princess Asian Doll offer up some lovestruck verses of their own.
Masta Ace & Marco Polo Feat. Evidence, "Eat"
https://www.youtube.com/channel/UCtnexPjgBBMSpx2RifqwLSA?feature=embeds_subscribe_title
Masta Ace and Marco Polo pleased hip-hop heads everywhere with last November's A Breukelen Story. They're back with another strong track in "Eat," which features two more beloved hip-hop figures: DJ Premier and Evidence. Primo laced the track, while Evidence dropped a verse on the ambitious chase for the dollar.
Quelle Chris Feat. Cavalier, Bilal Salaam, Eldar Djangirov and James Acaster, "Straight Shot"
Quelle Chris is gearing up to release his Guns LP, which promises to be an inventive, subversive look at America's gun culture. Or maybe it will be as clever as "Straight Shot," which plays on the title's dual-meaning with a pensive hook and a confessional look at several rappers' journey through life.
Lil Reese Feat. Fredo Santana, "What It Do"
Lil Reese pays homage to his fallen comrade Fredo Santana on "What It Do," a track in which Reese takes a debaucherous hook from Fredo and drops his own bars over synth-driven trap production.
IDK, "Trigger Happy"
IDK is set to drop his ISHEREAL album in the coming months, and capped off anticipation with "Trigger Happy." The song has some choice words about his fractured relationship with Logic (and Logic's relationship to his Blackness), but beyond that it's a strong example of the why the artistically ambitious PG County, Maryland MC is steadily gaining a dedicated fanbase.
Bankroll Fresh, "Extras"
Bankroll Fresh was taken from the world way too soon. but luckily for his fans, he still had some "Extras" in the stash. His estate commemorated the three year anniversary of his shooting death with a new single entitled "Extras." It's unclear if the single is from his In Bank We Trust album, which is in the works.
Sam Sneak Feat. Wale, "Gas"
MMG's Sam Sneak isn't just a DJ and A&R, he's got bars too. He decided to get some off with fellow MMG artist Wale on "Gas," a futuristic sounding ode to the age-old love of "smoking like a tee-pee."