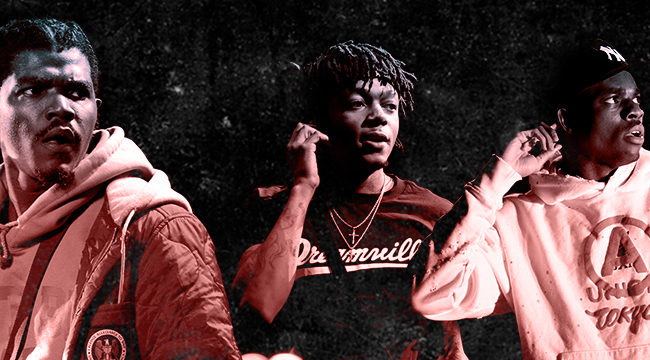 November is the month of thanks for a reason, and hip-hop should be grateful for what we got in the past 30 days. After an already busy 2018 chockful of high-quality hip-hop albums, November paid off with one of the strongest months yet. From Vince Staples to Mick Jenkins, Smino, CupcakKe and JID, a slew of on-the-rise artists with patient, cult fanbases released some of their best work yet. November also saw the release of Come Over When You're Sober Pt. 2, a posthumous album from the beloved Lil Peep. As always, this list isn't ranked in any way, and a lot of deserving albums missed the cut, but nonetheless check out the projects that set the third quarter of 2018 on fire:
Vince Staples, FM!
Vince Staples is so hilarious that sometimes you forget he's a hell of a rapper. His FM! EP is here to remind you. Pulling from classic albums like Snoop Dogg's Doggystyle, Vince creates a radio station theme for the project, with Big Boi and interludes by Tyga and Earl Sweatshirt forming the sequential glue for his latest collection of bangers. He masterfully fuses his gift for grim, contemplative narration with "Fun!" beats like "Don't Get Chipped" and "Outside," where he rhymes, "we gon' party til the sun or the guns come out," and "No Bleedin," where he somehow turns the paranoid "head on a swivel no bleedin' me" into a party-stoking mantra.
Vince mastered the classic West Coast formula of gritty tales over ambitious production on FM!, presenting his most accessible album yet.
Smino, Noir
Smino dropped his Noir project a day early to beat the Friday rush, but he didn't need to do that to be ahead of the pack. It's as if the gifted St. Louis artist knew what he had in the tuck with his sixth album, which pivoted from the melancholy of his Blkswn project to present a sunny, effervescent celebration of newfound fame. Smino relied on an upbeat, funky soundscape to ply his craft, showing off not just his lyrical talent but his warm vocals.
"Kovert" is an ideal example of his ability to switch from melodic precision to moody, free-flowing vocals. On "Fenty Sex," featuring Dreezy," he flirts — and does a little more than that — over a gentle, jazzy beat. He's playful, reflective, and lusting throughout Noir, and it works. Artists like Young Thug and Future have mastered the synth-driven trap-R&B fusion, but Noir is a close cousin of those efforts with lush, jazzy instrumentation and Smino switching between rapper and crooner with outstanding finesse.
JID, Dicaprio 2
You know an album is incredible when it's been out for a week and pops up on this list. JID did that with Dicaprio 2, a stellar offering that's cemented his place as one of the best rappers in the game. Forget just November, Dicaprio 2 is one of 2019's best exhibits of MC mastery. The Atlanta rhymer was the master of vibes on the album, whether it's an analysis of the drug epidemic on "Off The Zoinkys," celebrating triumph on "Westbrook" with ASAP Ferg or taking it to the essence with Method Man and on Joey Badass on "Hot Box." JID's myriad flows, witty wordplay, and knack for telling a story make Dicaprio 2 a thrilling experience and one of the strongest projects of the year.
Tyler, The Creator, Music Inspired By Illumination & Dr. Seuss' The Grinch EP
Tyler, The Creator's dark sense of humor makes him one of the last people you'd expect to be releasing holiday-themed music — but he's also so talented that he pulled it off with an impressive Music Inspired By Illumination & Dr. Seuss' The Grinch EP that could get play in August. His work on the Grinch soundtrack's "You're A Mean One Mr. Grinch" clearly inspired him, as he delivered six more tracks that display the knack for lush synth compositions and relatable, feel-good music that made Flower Boy a beloved album. "Hot Chocolate" is an appropriately warm ode to the delicious winter favorite, while "Lights On" with Santigold and Ryan Beatty is a sleek glimpse of Christmas in LA. Tyler's lush stocking stuffer can serve to break up the monotony of Holiday anthems at any party.
Mike Will Made-It and Various Artists, Creed II Official Soundtrack
Mike Will Made-It earned the esteemed role of executive producing the soundtrack for the box office smash Creed 2, then paid it forward by putting on his vast network throughout the album. True to Kendrick Lamar's presence on the Black Panther soundtrack and Future's work with Superfly, Mike Will made sure the album stayed faithful to the themes of Rocky, with Lil Wayne delivering a "Pre-Fight Prayer" and Nas and Rick Ross delivering affirmations of manhood on "Check." The project also veers into the sentimentality of Creed avenging his father's legacy on "Watching Me," which is highlighted by Swae Lee's doleful falsetto.
Vince Staples and movie composer Ludwig Göransson's collaborated on the epic "Ice Cold," which triumphantly scored one of the movie's biggest montages. Mike Will's curatorial choices are on point throughout the project, and hopefully, he'll be tasked to sonically channel the themes of more movies.
CupcaKke, Eden
Following in the theme of hip-hop's best social media personalities dropping music, Chicago rhymer CupcaKke released her Eden album, a project as imaginative, and yes, graphic as you'd expect. But sex rhymes that appease her fan base deemed "slurpers" aren't the whole of her artistry. Her presence typifies rap's oft-sexist propensity to put rappers in a box. She's been cast as a mere "raunchy" rapper despite the reality that she can hold her own with just about any rhymers out right now.
She flies out of the gate with the quirky "Pet Smart" and never looks back on Eden, showing off a well-polished flow and hilarious wordplay throughout. And while she's an icon of a new wave of carefree rappers, "Cereal & Water," shows her keeping everyone honest calling out poor parents and domestic abusers with witty lines like "that's funny when abusers ain't locked away / They in the crib giving more beats than Dr. Dre" and "that kid could be rich if you paid attention." It's funny how much that latter line applies to CupcaKke as a lyricist.
Big Krit, Thrice X
4Eva Is A Mighty Long Time indeed. Big Krit gave us all an incredible effort with that 2017 double-album, which has stood the test of time. But the Mississippi native decided to keep it short and potent with his nex offering, delivering Thrice X. In a month where fans of lyricism had to cull through albums from Vince Staples, Mick Jenkins, Smino, JID, and 9th Wonder's Jamala crew, Krit's three-song offering was merciful — even if we could always stand as much as the talented rapper-producer is willing to give.
He gave us three different vibes on Thrice X. He digs deep on "Higher," pondering "If I cry tears, am I less of a man?" The smooth "Glorious" is a flow exhibit, as he kicks slick talk over a beat that hits like the view of a tropical sunset. On "Look What I Got" he appears to have the most fun, swagging through some bars about his come up, which is even more fruitful now that he's independent. Thrice X was a strong mini-project that showed off Krti's versatility in a short span.
Mick Jenkins, Pieces Of A Man
The Chicago rhymer is the complete MC, and throughout his catalog, he's separated himself from the pack by exploring compelling themes and choosing the kind of production that hammers home his profundity. Pieces Of A Man, his latest example, is a masterpiece. He dishes his cerebral brand of lyricism over a range of dense, production on the 17-track album. "Understood" shows him ripping a wondrous production to shreds, while slows down on the sparse, jazzy "Smoking Song" which was produced by BADBADNOTGOOD. It's clear he took his time to find the kind of arresting beats that captivate, yet leave room for poetics like "Could read the same bible but n—-s quote it different on "Padded Locks" and "Can't teach a young n—a, he don't want to know / Could be a flower, he don't want to grow" on "Gwendolynn's Apprehension."
Mick is in full bloom on Pieces Of A Man, and it's a wonderful thing to see.
Lil Peep, Come Over When You're Sober Pt. 2
The world is still mourning the loss of the Lil Peep, but his legacy is truly living on through his music. His long-awaited Come Over When You're Sober Pt. 2 dropped this month, and it's a powerful, bittersweet reminder of the artistic potential the young artist had. He had won his acclaim with music that fused elements of emo music with trap, and the highlights of the project show off his burgeoning mastery. "Life Is Beautiful" is an ironic, poignant treatise on appreciating the little things, while "Falling Down" is a morbid posthumous union with another rapper who has passed in XXXTentacion. Producers Smokeasac and George Astasio of IIVI, his frequent collaborators, did an excellent job of maintaining Peep's vision and crafting an album that even Peep's mom has noted is one he would appreciate.
9th Wonder Presents: Jamla Records, Jamla Is The Squad II
9th Wonder has been building a crew to be reckoned with in the North Carolina-based Jamla records. Flagship artist Rapsody already broke with 2017's Laila's Wisdom, but hopefully, some of the other crew members will be able to ascend in a similar manner in 2019. Their Jamla Is The Squad II compilation album is another step in that direction, as Jamla rhymers like Actual Proof, GQ, Reuben Vincent and the Elzhi-Khrysis duo deemed Jericho Jackson held their own with a who's who of lyricists like J. Cole on the soulful "Sojourner," as well as Black Thought, Pharoahe Monch, Busta Rhymes, Big K.R.I.T. and Conway The Machine.
The beats are handled by 9th Wonder as well as other crew members like Nottz and Eric G. The 22-track album is a strong introduction for the unfamiliar, and further confirmation for devoted fans that already knew they were the squad.