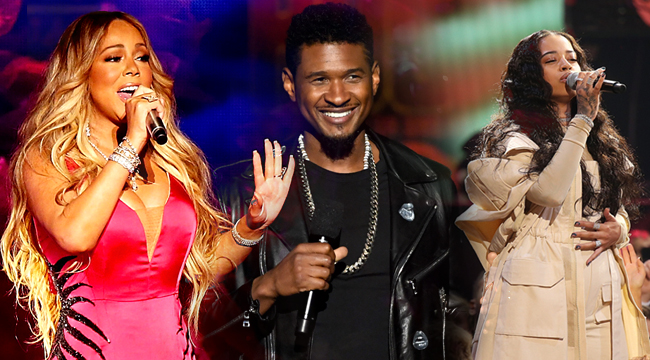 Sometimes good R&B can be hard to find, but there are plenty of great rhythm and blues tunes to get into if you have the time to sift through the hundreds of newly released music every week. So R&B heads can focus on listening to all the great music that appeases the musical palette, every Friday we'll be offering a weekly digest of the hottest R&B jams fans of the genre should hear.
This week, Ella Mai released her self-titled album executive produced by DJ Mustard, 16 songs strong. DJ Mustard also produced Mariah Carey's latest slow jam "With You," as she continues her series of single releases leading up to her next album. Lastly, Ushernlinked up with Zaytoven for A which holds the lovely, and sensual R&B joint "Peace Sign."
Ella Mai — "Sauce"
Ella Mai released her debut self-titled album today — a 16-track project featuring a cocky and catchy tune titled "Sauce" produced by DJ Mustard.
"So tell me if it gets too much," Ella sings on the chorus. "Tell me if you bit too much / Boy, act right 'cause it's cool if / There's too much sauce in the food for you."
Ella is singing herself into a successful 2018 with her sudden No. 1 hit "Boo'd Up" and now that her first studio album is out the world can get to know the British singer even more, through her music.
Usher — "Peace Sign"
Usher and Zaytoven make a great team as heard on their joint project A. "Peace Sign" is raw evidence that this collaboration was meant to be. Zaytoven going crazy on the piano while Usher maintains a true lyrical R&B aesthetic is everything and more than what was expected from a collaboration of this magnitude.
"On this side / Legs up like a peace sign," Usher sings. "Two cups down, got her tongue-tied / Can't wait 'til I'm inside / Beat, beat 'til the sunrise."
A contains eight tracks blessed by Zay as well as features from Atlanta's own Future and burgeoning rapper Gunna — both who adopt R&B form in their music. The synergy on A is explosive.
Mariah Carey — "With You"
Mariah Carey's latest release "With You" is a great love song produced by DJ Mustard — a stark difference from her previously released single "GTFO." This time, Mariah finds herself in love and she is not ashamed.
"Ooh, I'm in love, it's true," she croons. "Yeah, damn I f*cks with you / And we all make mistakes sometimes / But we muddle through."
It's very reminiscent of her 1997 album Honey or 2005's The Emancipation Of MiMi. "With You" is expected to live on Mariah's upcoming album MC5.
THEY. f. Wiz Khalifa — "What I Know Now"
Rising Los Angeles R&B duo THEY. connected with Wiz Khalifa on "What I Know Now," a taste of what's to come from their forthcoming Fireside EP.
The song is the perfect mixture of alternative rock with its deep guitar riffs and R&B with its chilling melodic vibe. Wiz, who happens to be down for creating an R&B type of project himself, adds his smooth lyrical swagger to the track.
THEY.'s Fireside EP is slated to drop November 9 and will include additional guest appearances from Ty Dolla $ign, Jeremih and Jessie Reyez. It will be the follow-up to their 2017 release of Nu Religion: Heyena.
DCMBR — "No Way"
DCMBR has been making waves as of late with his impressive appearances on rising rapper Mozzy's music, including Gangland Landlord's stand out cut "Excuse Me."
While things are heating up for the singer, DCMBR is taking the opportunity to unleash a brand new single in the form of "No Way" produced by Grammy Award-nominated producer Bizness Boi.
Dcmbr's singing on "No Way" absolutely hits the spot.
Summer Walker — "CPR"
There's been a lot of buzz surrounding Summer Walker and from the sounds of her track "CPR," it's easy to hear why. The LVRN singer put out the music video for the fan favorite slow jam this week directed by Lacey Duke.
In the video, Summer and her faceless lover take the time to be each other's romantic therapy.
Fans can hear more of Summer on select dates of her label mate 6lack's East Atlanta Love Letter Tour.
Maxwell — "Shame"
Maxwell is getting ready to drop his album NIGHTS in 2019 and his lead single "Shame" was released this week along with news of the project which will serve as the final drop in his BLACKSUMMERSNIGHT trilogy.
On "Shame," Maxwell explores insecurities that can sometimes seep into the cracks of relationships or just life in general.
Aysha Monet — "Too Pretty"
Aysha Monet is Dom Kennedy's R&B artist signed to his OPM label and she recently unleashed her EP Don't Forget featuring 10 tracks under the imprint.
Following up on her popular track "N—-s Like You" off the EP, Aysha returns with a music video for her song "Too Pretty."
"Oh you didn't know I'm so incredible," she sings over the DungeonMusic-produced track. "Yeah you cute but you ain't all of that boy / It's too many out there I can have boy / Next time come correct to a girl with class boy."
The song is meant to empower women and serves as a reminder to not let anyone treat you any kind of way.
The Free Nationals Feat. Daniel Caeser And Unknown Mortal Orchestra — "Beauty & Essex"
Anderson .Paak's live band The Free Nationals tapped in with Daniel Caesar and Unknown Mortal Orchestra for an illustrious tune titled "Beauty & Essex." The vibes emanating from this song could fit perfectly while having drinks at the popular TAO group restaurant bearing the same name of the song or it could be about a frolicking with a beautiful and promiscuous girl, as the word Essex suggests.
The Free Nationals are currently preparing to put out their debut self-titled album with expected features from Syd, Kali Uchis and the late Mac Miller.