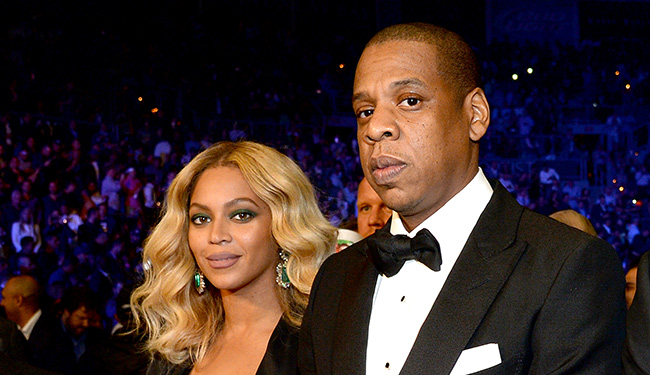 Everybody seems pleased with Jay Z's new album 4:44. The fans are praising it, so is just about every rapper alive — including Kendrick Lamar — and music connoisseur LeBron James loves it too. But before the album saw the light of day it had to be approved by probably the most important voice in Jay's life: Beyonce.
Yes, the album's lone producer No I.D. spoke about the album with The New York Times, and said Bey — who provided background vocals on the track "Family Feud" — served as the "de-factor A&R" and approved of every song.
I always call Bey our de facto A&R. Pillow talk is the strongest conversation on the planet. Every song has to get past her ears, in my eyes. She came by a lot and played a good part in helping us get over hurdles on certain records. Of course she's genius-level with that.
No I.D. also adressed the idea that 4:44, or at least parts of it were a response to Beyonce's 2016 album Lemonade. There were rumors at one point that Jay was recording an outright response, and his infidelity was a major theme throughout the album. But No I.D. says no, it was never meant to be an all-out Lemonade response, though he was obviously going to tell some of the story from his point of view.
Me, him and Guru, his [recording] engineer, knew that we didn't want him to do an album of "Lemonade" response. We just wanted him to respond and then let it be and still touch on other things. I created that beat to box him into telling that story. I put the sample from the singer Hannah Williams — it starts off with, "I find it so hard/When I know in my heart/I'm letting you down everyday." I remember him hearing it and looking at me like, "O.K., fine."
It's no surprise a man's wife would have such an influence on his life, even his work life, but it's still an eye-opening revelation. But, if you can get Beyonce's help, you'd better use it because like No I.D. said she's a genius. Jay used the platform to apologize for his infidelity, and Bey herself used it to bring attention to some of her charitable efforts so they're both taking advantage of their prominence in positive ways.