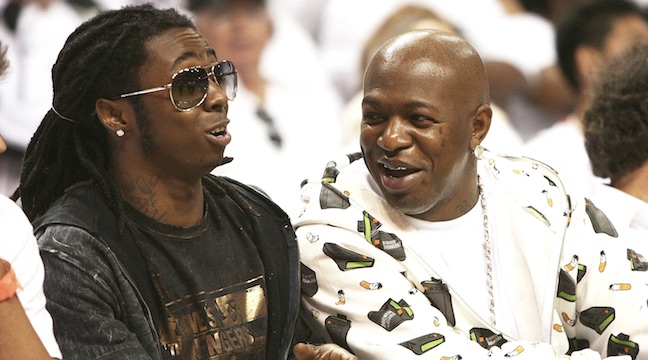 The ongoing saga between Lil Wayne and Birdman has been painful for fans who remember better times, and for anyone who believes Lil Wayne's claims that Baby has scammed him out of quite a bit of money. (Most of us.)
Luckily, TMZ reports that Wayne caught a legal break today — a judge has ordered Birdman to produce accounting records that detail how he spent $70 million of the $100 million that he and Wayne should've reportedly split evenly. Wayne claims Universal Music Group advanced Birdman $100 million for a distribution deal, but that he never saw a penny of it, and Birdman says it was spent on "marketing and expenses." Uh huh.
So today a judge has ruled that Birdman find the documents to back up these claims. His lawyers have previously admitted that the Cash Money paper trail may be sparse, but this judge isn't accepting that as an answer. He has thirty days to produce the records — and not the 20,000+ useless documents that Wayne's camp say include no details about the spending.
This is the first real step toward legal action that Wayne has gotten in the case. Maybe he's on the right path to getting what he legally deserves. If Wayne ends up winning this lawsuit, it could set a huge precedent for artists suing their labels and will probably get these notions of retirement out of his head for good.