I don't know what the comic book world equivalent of a supergroup is called, but this has to be close. Run The Jewels' iconic Jewel Runners' salute has found its way onto the cover of the second issue of Ta-Nehesi Coates' run of Black Panther.
The cover from Coates' "A Nation Under Our Feet" arc features T'Challa and — judging from images shown in the preview clip of the series — a supersoldier that he has created in a lab while attempting to fend off a rebellion. Cover artist Rahzzah placed the duo on a field of red that is reminiscent of both Marvel and RTJ.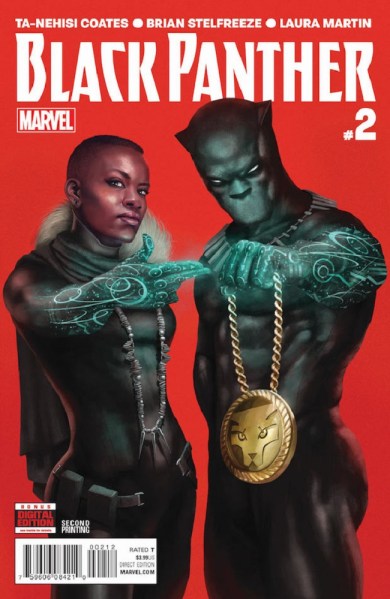 It's the second time that Marvel have busted out the famous fist-and-gun. As part of their wildly popular hip-hop variant covers series, both Howard the Duck and Deadpool showcased the group's most-famous signifier. It's also not the first time that Killer Mike and El-P have been involved with Coates' run of Black Panther, either. Their RTJ2 track "Oh My Darling (Don't Cry)" was used to soundtrack the preview clip for the series.
This particular issue will hit shelves on June 15. If you can't wait that long to get more RTJ into your life, check out our playlist of their best songs or our interview with the duo prior to the release of the cat remix album Meow The Jewels.
(Via Pitchfork)