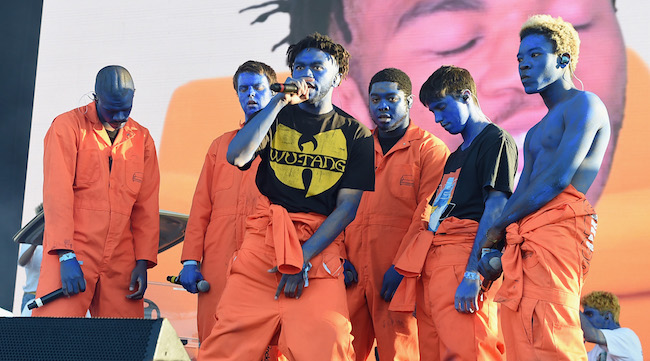 Brockhampton's debut album under their new RCA Records deal has turned out to be the group's most successful as Iridescence becomes their first Billboard 200 No. 1 album after surprisingly strong straight sales.
Iridescence, Brockhampton's fourth studio album in total after Saturation I, II, and III, released on September 21 via Question Everything/RCA Records and tallied 101,000 equivalent album units in the week ending September 27. 79,000 of those were in traditional album sales, while only 22,000 were comprised of streaming equivalent albums, with a "negligible" track equivalent albums — possibly owing to the fact that singles were only released after the album was and in typical Brockhampton fashion, featured minimal push and low-budget, self-shot videos.
In fact, Brockhampton has yet to land a single on any Billboard chart, although Saturation II and Saturation III were able to reach the Billboard 200 after the original missed out. Radio still hasn't picked up on the group, but clearly, that hasn't stopped their passionate fanbase from turning out in force on album release date to pick up the eclectic, unconventional album. This is at least in part because of the merchandise/album bundles sold via Brockhampton's official website, which included hoodies, T-shirts, sticker packs, skateboard decks, and even a Rubik's cube emblazoned with a photo of the band and a multicolored couch logo.
Like many of their Generation Z compatriots, Brockhampton has a unique insight into their demographic, which they're clearly utilizing to make themselves true hitmakers on their own terms.