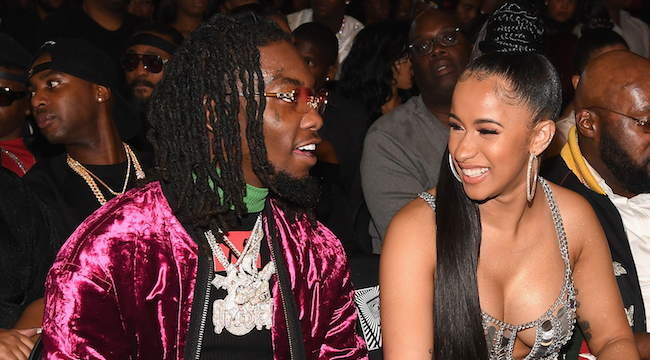 If you happened to be on Twitter on Christmas and noticed that "Offset" had become a trending topic, you may be aware of the NSFW video currently circulating that supposedly features the Migos rapper and a naked woman who is most decidedly not his fiancé, Cardi B. The video, apparently taken in a hotel room with Offset as cameraman while the woman walks around in the buff, sparked rumors that the dreadlocked Atlanta rapper was stepping out on his lady love, and many wondered how Cardi would respond.
It seems doubtful that anyone expected the pair to appear on Instagram Live, goofily simulating sex while fully clothed and laughing at the camera. It appears that whatever was going on in that hotel room video, Cardi herself has already moved on and is still happily in love with Offset.
There was some speculation that the hotel video was one of the reasons for Cardi's extra dramatic weekend a few months ago. In October, Cardi posted a series of tweets that made it seem like she had broken up with Offset, followed by another that confirmed that the pair were still together. Ultimately, the tumultuous weekend was blamed on a missing blanket and Offset proposed at the Powerhouse Philly show a week later. Judging from the two rappers' Instagram shenanigans, it doesn't look like their plans are changing anytime soon.