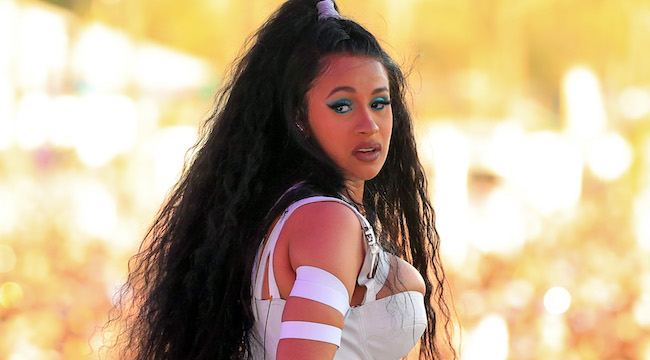 After pop star Rita Ora apologized for "harmful" language that was used in her latest single, "Girls," Cardi B, the song's co-star, has also chimed in to explain herself in the midst of the backlash against the song. "Girls," which also features pop singers Bebe Rexha and Charli XCX, was intended as a celebration of sexual freedom but instead became the focal point of a discussion about harmful stereotyping and marginalization after a few queer artists and fans called out some of the song's lyrics.
Cardi, who previously issued apologies for offensive terminology she once freely wielded and also stood up for fiancé Offset when he experienced a backlash of his own, tweeted out her response this morning. "We never try to cause harm or had bad intentions with the song," she explains. "I personally myself had experiences with other woman ,shiieeett with a lot of woman ! I though the song was a good song and i remember my experience."
She also went on to reiterate her own learning experience and ask for grace for the song's other featured artists, as they may still be learning themselves. "I know i have use words before that i wasn't aware that they are offensive to the LGBT community .I apologize for that .Not everybody knows the correct "terms "to use.I learned and i stopped using it."
The video for the song has already been shot with a planned release sometime in the near future.