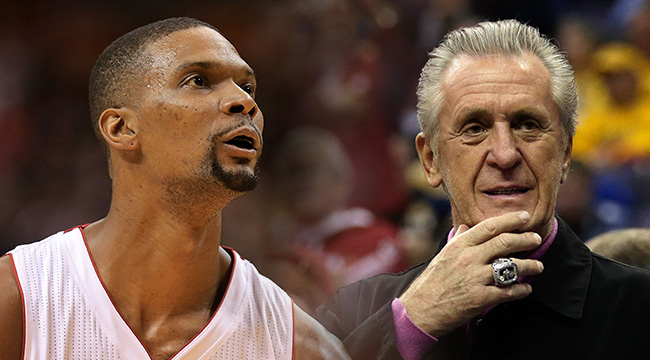 The Chris Bosh saga continues to cast a pallor on the Miami Heat's season. Despite a failed physical and assurances his career is "probably over" with the Heat, Bosh keeps hoping his hardwood days aren't yet in his rearview. On Wednesday, ESPN's Zach Lowe published a piece that seems to reveal what might happen next for Bosh, and it's clear from our coworkers' reaction to the news, Pat Riley will be the scapegoat for this decision.
Sources tell Lowe that the Heat will wait until after March 1 to waive Bosh. That way he's not eligible for postseason duty, where a future hall of famer could certainly help any team lucky enough to land him.
Lowe agrees that a team "will absolutely sign him to the minimum," and Bosh won't bat an eye at that low-ball offer because he's still getting all the money (three years and $75 million) from the Heat. Then, depending on how he works out, Bosh could get a deal for the 2017-18 season. It's the deal moving forward in 2017-18 that would send Riley into a catatonic stupor the likes of which we haven't seen since he stepped down as coach of the Lakers. Because then Miami's salary cap would take a hit and he couldn't dangle a max deal and all those rings next summer in free agency.
Here's Lowe:
That is Miami's financial nightmare: The Heat spend a gazillion on free agents this summer, and Bosh plays at least 25 games elsewhere in 2017-18 — at which point, NBA rules require his salary nestle back atop Miami's cap number. That could send the Heat flying into luxury tax hell. Miami hasn't found a middle ground that would allow it to waive Bosh and proceed with financial certainty. Bosh is under no obligation to provide them with one.
This whole situation sucks, and even more so because we're not quite ready to label Riley the pariah our coworkers believe.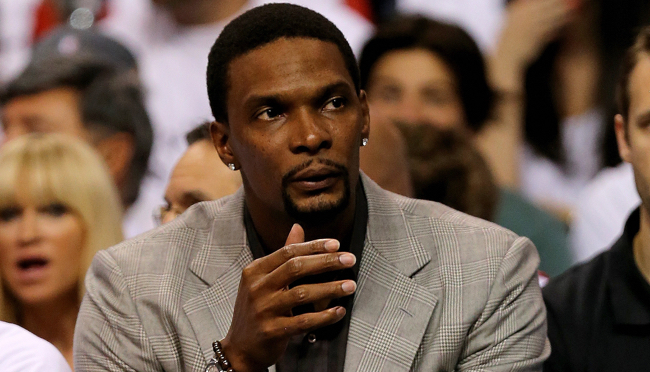 Chris Bosh shouldn't play basketball. We've asked him directly. And while he's continued to fight to keep playing basketball, it's not crazy to suggest that Riley is simply trying to prevent Bosh from playing at all.
This is one of those rare instances in life where we're trying to see the glass half full, because we'd normally side with our coworkers on this one. Riley is just doing what's in his team's own self interest, as is Bosh. Riley is awful, etc.
Regardless, we all lose. If you're someone who just has to attach blame to someone for something like this, you might as well smite whichever deity you believe in. If you're an atheist, blame mankind. If you're an agnostic, call out mankind's collective unconscious, or whatever that feeling is when the hairs on the back of your neck get prickly for no freakin' reason.
(ESPN)