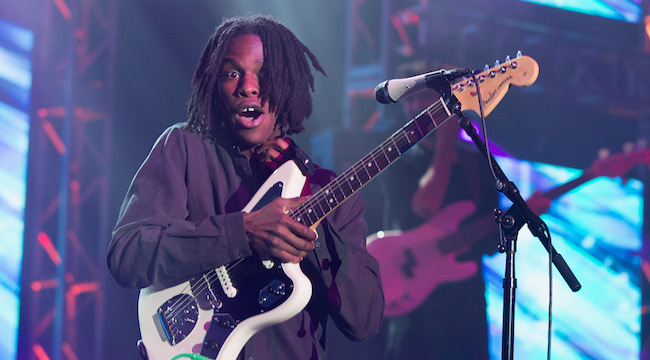 Daniel Caesar has exploded onto the R&B scene in a big way in 2017; seemingly popping up from nowhere, the dreadlocked Toronto singer has appeared on late-night TV a number of times, been featured on Chance The Rapper's "First World Problems," and his debut album, Freudian, has become an instant fan favorite. In fact, it's become so much so that fans have taken to exploiting the romantic vibes of his music — including Insecure-soundtracking "Blessed" — to propose at his concerts, according to The Fader. Enough have done this that it's become kind of a trend.
At least three videos have been found online to date of fans at Caesar's shows popping the question, and as yet, it appears no one can resist the charms of his soulful, confessional songs. He hasn't made any comment about the growing trend yet, but if it continues, he may have to.
Of course, there's always at least one contrarian; St. Louis rapper Smino recently took in a Daniel Caesar show, but rather than looking for love, he joked that he was "getting divorce drunk." Hopefully, he doesn't rub off on any of the lovebirds in attendance.
Currently, Daniel Caesar is on tour promoting Freudian, with two final dates in his native Toronto. After that, he hasn't announced any immediate plans, but now might be a good time for him to start taking bookings for all the weddings that will inevitably end up soundtracked by his music. It's never too early to start working on carving himself into wedding reception Mount Rushmore alongside Stevie Wonder and John Legend.
Celebrate love and watch the proposal videos below.