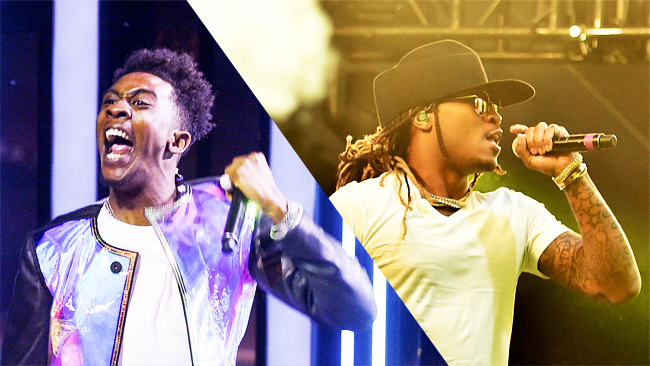 Desiigner's ready to dead those Future comparisons once and for all. Maybe.
The "Tiimmy Turner" MC recently sat for a Q&A with Interview and the question of what separates him from Future came up. With his usual, youthful confidence, Desiigner rattled off the characteristics he alone possesses that make him who he is.
"My style, my funk, my performance, my charisma, the way I deliver my songs," he replied. "That's what makes me different. I stay humble. The second you see me on stage doing my thing, you know I'm not like the rest. I stay crazy."
The latter part is something that definitely can't be questioned since we've seen how high energy his performances are, including that time he blew chunks on stage and kept right on rapping "Panda" without missing a word.
The Brooklyn native also detailed how his deep voice is an inherit trait from his grandfather. "Actually, if you listen to the vocals on my grandfather's records you will hear we sound similar," he said. "We both sound kind of dry. We have a dry voice and we both love harmony–he was a man of harmony, I'm a man of harmony. I think it just runs in our blood."
He continued to explain how singing is very much a familial thing and something he embraced early on. "Everybody in my family sings," he explained. "We were either in a choir or there was something going on at home where we were singing. I was 'that singing dude.' At school I'd be the dude singing to the girls, always up in the auditorium, in the lunch room singing Christmas carols, in the halls between class. I was always singing, and same thing with my grandfather."
"The apple doesn't fall too far from the tree, you know how that goes," he said. "It just runs in my family. Music always lived with me, like a family tradition."
(via Interview)