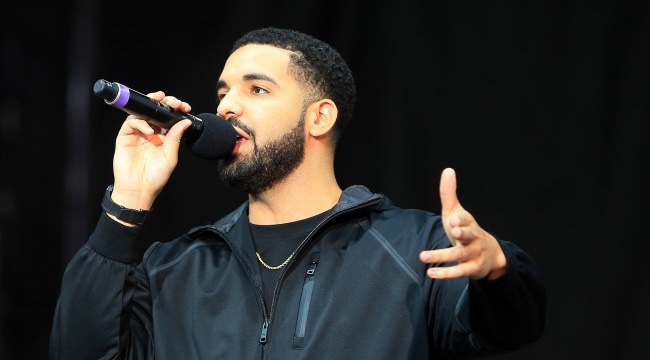 After a series of postponements due to what was described as "production issues," Drake's hotly anticipated Aubrey And The Three Amigos Tour, finally kicked off last night in Kansas City, and judging from the footage shared over social media, it was an absolute barnburner. Migos got things started early, ripping into some of their most well-known tracks from their two albums Culture and Culture II and later showed up during Drizzy's set to perform "Walk It Talk It" and "Versace" with the man himself.
https://instagram.com/p/BmZ08ycguOS/?utm_source=ig_embed
With more hits than he can possibly ever hope to perform in a single show, Drake kept the Missouri crowd rapt with selections from across his discography, while paying special attention to the material from his most recent album Scorpion. In fact, just after performing the song "Don't Matter To Me" which features some posthumous vocals from Michael Jackson, Drizzy ripped out a pretty phenomenal cover of the King Of Pop's immortal "Rock With You."
You can check out footage from the show above and peep the entire 40-plus song setlist below.
"8 Out Of 10"
"Talk Up"
"Mob Ties"
"Started From The Bottom"
"Jumpman"
"Both"
"Know Yourself"
"Emotionless"
"Elevate"
"Can't Take A Joke"
"Energy"
"Yes Indeed"
"Free Smoke"
"Trophies"
"Gyalchester"
"Pop Style"
"Over"
"Headlines"
"HYFR (Hell Ya Fucking Right)"
"All Me"
"Blessings"
"For Free"
"The Motto"
"My Way"
"Walk It Talk It"
"Versace"
"Hot Summer"
"Workinme"
"Drip"
"Stir Fry"
"Blue Tint"
"That's How You Feel"
"Don't Matter To Me"
"Rock With You" (Michael Jackson cover)
"After Dark"
"Jaded"
"Controlla"
"Work"
"One Dance"
"Hotline Bling"
"Fake Love"
"Nice For What"
"In My Feelings"
"Look Alive"
"Nonstop"
"I'm Upset"
"Over My Dead Body"
"God's Plan"