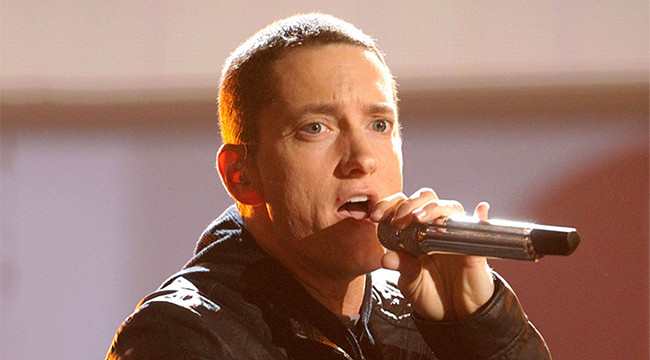 At his commercial peak, Eminem decided to secure himself far away from the trappings of Hollywood by purchasing a home in suburban Detroit for $4.75 million. According to E! Online, the highest-selling rap artist of all-time is selling the six-bedroom, nine-and-a-half bath house in Rochester, Michigan for $2 million, a significant financial loss on the property.
However, just because the mansion itself has lost some value doesn't mean it's missing one of those type of layouts your dream MTV Cribs episode would love to have. The mansion, which was built in 1986 features 17,000 square feet of space including a tennis court, a game room, a pool with a waterfall, a basketball court that helped Em lose a lot of his mid-2000s weight, a guest house and an entertainment cabana. Not bad Marshall Mathers, not bad at all.
Shedding the property isn't a money move for Eminem. As he still sits at the helm of Shady Records, he overlooks an empire that has netted him a handsome sum as an artist and is still revered as one of the premier rappers of all-time, controversial or not. Along with his upcoming battle rap film Bodied, Em has more reasons to celebrate. His greatest hits album, Curtain Call: The Hits became the longest charting rap album in Billboard history as it's been on the Billboard 200 for 350 weeks and counting. The next closest Eminem albums? 2002's The Eminem Show which has spent 329 weeks on the Billboard 200 and his 2010 comeback album Recovery which spent 288 weeks on the charts.
Plus, there's rumor of a new Eminem album on the way that industry insiders are already confirming. So if you want to own a piece of Detroit rap history to practice the battle scenes from 8 Mile in, here you go.
Update: According to The Daily Mail, the mansion finally sold for $1.9 million, less than half of the $4.75 million Em paid for the property back in 2003, and less than the $2 million the house was listed for.