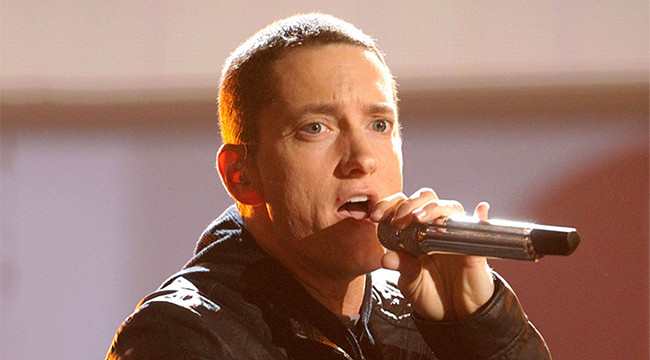 This year has been huge in rap, with titans like Jay Z, Drake, Kendrick Lamar and more dropping albums and one guy many consider to be the best rapper ever is apparently joining the fray soon as well. The rumors of a new Eminem album this year have all but been confirmed, first by 2 Chainz then by industry whispers that Eminem and Taylor Swift still have albums on the way before the end of the year as part of a corporate power move by Universal Music Group.
Now, the latest bit of proof of an imminent takeover from Slim Shady comes straight from his hometown as Mojo, the host of the Mojo In The Morning show on iHeart radio station Channel 955 in Detroit revealed Em has a new single on the way "very very soon."
Listeners caught the announcement and ripped it and threw it on Youtube for proof, and Mojo can be heard discussing the track in the video below. "So our boss just got back from New York City where he was hanging out with some peeps," Mojo explains. "He says there is a new Eminem and Pink song coming out that he said is unbelievable. He said he was one of the first ones to hear and that it's coming out very very soon."
The duo of course collaborated for the 2010 track "Won't Back Down" from Eminem's Recovery, and then on "Here Comes The Weekend" off of Pink's The Truth About Love in 2012. With all of the year's major releases out of the way so far, it looks like it's Shady's time to come through and own the airwaves for a while.