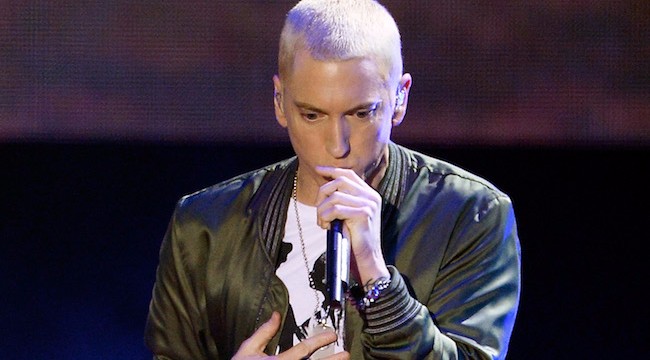 Eminem's Revival rollout hasn't exactly been a roaring success. His much-anticipated comeback single "Walk On Water," with Beyonce flopped, and whether it was a coincidence or not, the album seems to have been pushed back afterward. Still, Em is a megastar and there's plenty of buzz for his new album, and now, with a little more than a week left until Revival hits store shelves Shady himself took to Twitter to reveal the album's tracklist and it has some big surprises.
The 19-track album, which features an interlude and a intro, features some of the familiar faces from Eminem albums like Pink and Skylar Gray, but it also features a few surprising names, and one stands out in particular: Ed Sheeran. Kehlani and Alicia Keys are set to make appearances as well, along with Phresher and New York rock band X Ambassadors. The one glaring omission after their much-ballyhooed about collaboration: 2 Chainz.
It would seem that Em is loading up on sung hooks for an album that, judging by the first single, represents a sort of turning point for the 45-year-old rapper. Beyond "Walk On Water," nobody really knows what to expect from Revival, beyond faint whispers that it will feature some anti-Trump rhetoric after Em's scathing freestyle at this year's BET Hip-Hop Awards. Guess we'll all find out on December 15.
Check out the Revival tracklist below.
Revival Tracklist:
1. "Walk On Water (feat. Beyonce)"
2. "Believe"
3. "Chloraseptic (feat. Phresher)"
4. "Untouchable"
5. "River (feat. Ed Sheeran)"
6. "Remind Me (Intro)"
7. "Remind Me"
8. "Revival (Interlude)"
9. "Like Home (feat. Alicia Keys)"
10. "Bad Husband (feat. X Ambassadors)"
11. "Tragic Endings (feat. Skylar Grey)"
12. "Framed"
13. "Nowhere Fast (feat. Kehlani)"
14. "Heat"
15. "Offended"
16. "Need Me (feat. Pink)"
17. "In Your Head"
18. "Castle"
19. "Arose"