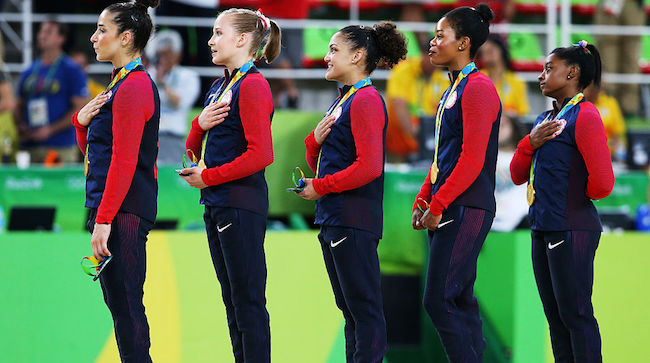 Gabby Douglas may have won her third gold medal yesterday, but the celebratory moment was marred with controversy and social media outrage by critics calling the Olympic all-around gold medalist "unpatriotic."
After winning Olympic gold, the Final Five all placed their hands on their hearts while the nation's "Star-Spangled Banner" played throughout the stadium. All except Douglas, who stood hunched over with her hands draped in front of her. The televised move garnered many negative reactions on social media with critics calling Gabby "un-American," "unpatriotic" and "disrespectful."
"Gabby Douglas refused to place her hand over her heart during the medal ceremony. Straight disrespect!" read one tweet following the ceremony. "This is classless and disrespectful and still would be if she was white. Show some class Gabby," read another. One commenter even asked for Gabby to be kicked out of the Olympics all together, tweeting, "How dare Gabby Douglas not put her hand on her heart for the American National Anthem!!!! #KickGabbyOutOfOlympics
Turns out, Douglas meant no harm. The 20-year-old took to her Twitter after snatching gold and explained that contrary to belief, she wasn't trying to make a political statement.
In response to a few tweets I saw tonight, I always stand at attention out of respect for our country whenever the national anthem is played. I never mean any disrespect and apologize if I offended anyone.
Many Gabby supporters countered the haters with pictures of dignitaries, Trump and other athletes failing to place their hands over their hearts.
Looks like another case of faux outrage.