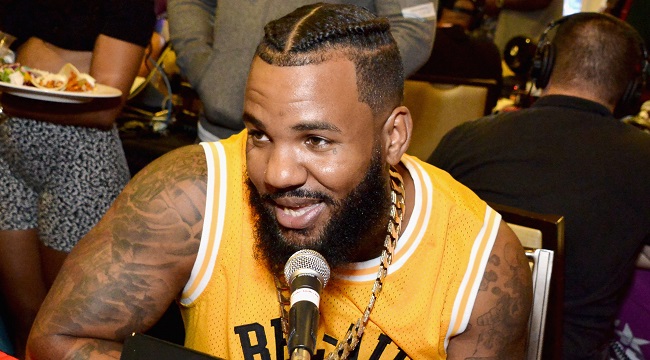 Cardi B's Invasion Of Privacy is here. The 13-track album has its peaks and valleys, but it also solidifies her transition from hot newcomer to established star. Cardi B has steadily ascended in the past year, coincidentally within the same period of time that Nicki has been relatively quiet. The dichotomy isn't lost on music fans who can't wait to pit the two artists against each other. More male artists should step in to shut this needless drama down, like The Game has with a recent Instagram post.
Game celebrated Cardi's album with a celebratory post on Instagram. The post caused one commenter to ask Game if he thought Cardi "took Nicki's spot" by virtue of releasing her album. He quickly collected them, noting that for one, "Nicki is in her own lane" and is breaking records. The Compton rapper commended Cardi for going "0-100 on everybody in less than a year" and concluded that "they both have their own spots" in hip-hop. Female MC keeps elevating in I love it."
Game also bigged up some of his favorite women rappers, gushing that "the female MC keeps elevating." Cardi seems elevated above the drama herself, as she told Ebro during a Beats 1 interview that she has no issue with Nicki. When Ebro asked about the "Motorsport" video, Cardi said she heard that Nicki simply couldn't make the set where they were.
It seems like if they really had a problem with each other, neither would be scared to speak their mind – and capitalize on the hoopla that hip-hop fans are trying to engineer between the two.