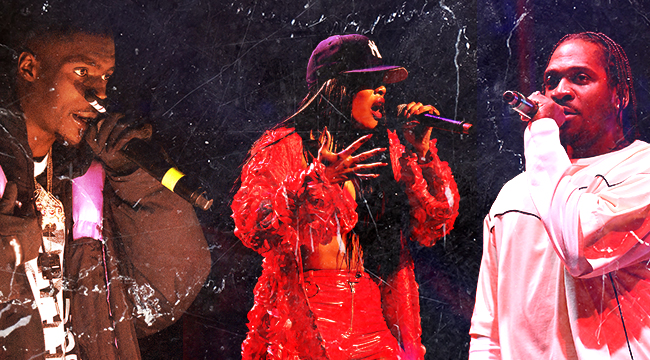 Last weekend in Chicago, the month-long Red Bull Music Festival kicked off with a bang, collecting most of the artists on Kanye West's GOOD Music label for a two-hour long arena blowout concert. With some admittedly notable exceptions, nearly every artist currently signed to the imprint was on-hand at the 10,000-seat Wintrust Arena in the South Loop to show what they can do.
One of the more interesting aspects surrounding the evening was to consider how far removed we are from the peak, Cruel Summer era of 2012 when Big Sean and Travis Scott were both newcomers and Jay-Z was hanging around the "Clique." The only artist still kicking around from that time period is the label's current president, Pusha T. The rest of the bill was lined with relative newcomers like Valee, 070 Shake, and Teyana Taylor, along with Desiigner, and a headlining set from Nas, who though not a member of GOOD Music, worked with West on his most recent, seven-song album Nasir.
Most notable in his absence was West himself. Though he was never billed, you had to think given the fact that he's been hanging around Chicago a lot more lately, and that nearly every single one of his artists that hit the stage has some kind of affiliation with him that he might want to make an unscheduled cameo. Alas, that was not to be. Perhaps he's trying to maintain a lower profile at the moment in the run-up to the release of his next album Yandhi. It seems antithetical to his very nature, but given all the recent mania that has stirred up around him lately, and his decision to go quiet about his political feelings, maybe he simply didn't want to overshadow the larger event. Or maybe there was an art exhibit he wanted to catch in Fort Worth, Texas instead. Who the hell really knows?
You can really learn a lot about an artist by what they do when they get in front of a crowd. With so much talent sharing the same stage on the same night, it was interesting to consider where each person currently sits in the larger GOOD Music hierarchy. Here, they all are ranked from worst to best.
Honorable Mention: CyHi The Prynce
What does CyHi The Prynce have to do to get the notice he deserves? The man released one of the very best rap albums of the year in 2017, No Dope On Sundays, has long proven to be one of Kanye West's best behind-the-scenes writers, and still can't find a place on a GOOD Music revue show? This is egregious.
Honorable Mention: Big Sean
https://www.instagram.com/p/Bn0INKiHfis/
Outside of Kanye West, Big Sean remains the biggest and most commercially powerful artist on GOOD Music. As such, he's reached a point in his career where he's grown beyond performing on a multi-person bill of this nature. He also seems to be distancing himself from West and the label itself lately. His absence from the recording sessions that went down this year out in Wyoming was certainly notable and had a lot of people speculating on the status of his relationship with former mentor at the present time. But until he drops his next album and it comes with a different record company moniker in the bottom right-hand corner, he remains GOOD Music's brightest star, non-Kanye category.
7. 070 Shake
https://www.instagram.com/p/BlQperqHGo3/
070 Shake's position at the bottom of this ranking is not entirely her fault. She just doesn't have the songs yet. Though it's true that she put out a six-track EP earlier this year titled Glitter, most people really only recognize her from her feature appearance on the last two songs from Kanye West's most project album Ye, "Ghost Town" and "Violent Crimes." Given about five-to-seven minutes onstage to kick off the show, you wanna guess which two tracks she performed? That's right, "Ghost Town" and "Violent Crimes." In time, she'll build up a deeper catalog of her own tracks, I'm sure. I'm also confident she'll also hone her skills as a performer, which were a little less than refined during this gig — but that just comes with experience.
6. Valee
https://www.instagram.com/p/BlxIy7bFOGW/
Valee has all the potential in the world to be a star. Hell, I'd say he's just on the cusp of making it. His breakout single "Womp Womp" made major waves this summer, and last month he logged on a cameo appearance on the ABC sitcom Splitting Up Together, dolling out relationship advice to the male lead. And yet, in front of his hometown, performing in front of one of the biggest crowds of his career, he kind of whiffed. It's never a good sign when the camera guy is following around your hype man for most of the duration of your set because he's going hog wild over the beats while you're listlessly puffing on a blunt, and that's exactly what happened for the most of the 15 or so minutes Valee was onstage. Granted, his laid-back style is maybe not the most conducive to an arena environment, but you've gotta find a way to inject some energy into the proceedings somehow.
5. Desiigner
https://www.instagram.com/p/BpieNaslgQn/
Desiigner came straight out of the gate hot, ripping right away into his number one hit song "Panda." He raced to the front and performed most of the track while balancing on the shoulders of a pair of security guards. Then he played it again. Then he played it a third time. Then he played the "Timmy Turner Freestyle." At one point, Desiigner seemed like GOOD Music's future, but as his set displayed, even though he's only a couple years removed from chart dominance, he might already be its past. Still an insane performer though.
4. Nas
Nas is a certified legend. He has more hits at his disposal than he could ever hope to play in a 30-minute headlining slot. He's got a veteran's savvy and an innate understanding of how to work a crowd. Illmatic is a f*cking masterpiece. And yet, the album he cooked up with Kanye this summer Nasir was a major let-down. For years, the biggest knock against Nas was a frustrating inability to pick choice beats for his otherworldly bars. Kanye gave him some superb music to spit on, and yet, he didn't really make much with it. Nas isn't currently a member of GOOD Music proper and I don't see him signing anytime soon. That said, "One Mic," "NY State Of Mind," and "Hate Me Now," still crush live.
3. Sheck Wes
Due to "unfortunate circumstances," Sheck Wes did not make it to the show on Saturday night. It was actually kind of a bummer for me and a lot of people packed into the building who've been banging his debut album Mudboy constantly since it dropped just last month. He earned his position high up on this list despite his absence, however, by inspiring the night's truest most pit when the DJ played his mega-hit "Mo Bamba" twice, back-to-back in between Pusha-T's and Nas' set. Seriously, from watching from above, the floor looked like a writhing sea of humanity, straight from Dante's Inferno. He didn't even need to be in the building to make his presence felt. THAT'S star-power.
2. Teyana Taylor
Of all the performers who hit the stage at Wintrust Arena, Teyana Taylor was the only one who really made a show out of it. Backed by three dancers and an honest-to-God live band — give me live drums at a hip-hop concert and I'll give you my heart — Taylor made the venue her own, singing, rapping and holy sh*t, dancing to the tracks from her most recent album K.T.S.E. like her very life depended on it. The stage was by no means too big for her talents, and I could certainly see her holding down venues of this size by herself in years to come. She even carved out her own encore, bidding us adieu, racing to the wings, before running right back out front again and promising to do one more song. Brilliant!
1. Pusha T
https://www.instagram.com/p/BowX05fH3d_/
As the President of GOOD Music, Pusha T was truly the man of the evening. No disrespect to Nas, but it's wild to me that in 2018 he wasn't the headliner. Fresh off a private jet straight from ComplexCon in Los Angeles, Push proudly proclaimed, "I'd like to welcome you all to the Daytona experience."
And just in case you didn't comprehend what that fully meant, he added, "When I'm talking Daytona I'm talking rap album of the motherf*cking year." Then he set out to prove his point by performing every single cut from that record in front of all us. For a guy whose catalog is stacked with immortal hip-hop cuts going back 15 years now, it was a huge flex to focus solely on material from the record he dropped only a few months ago. He did hit us with the remix of Chief Keef's "Don't Like," but I don't know if he could've made it out of Chicago without busting out that gem. What can I say? King Push stays the King. Eghck!