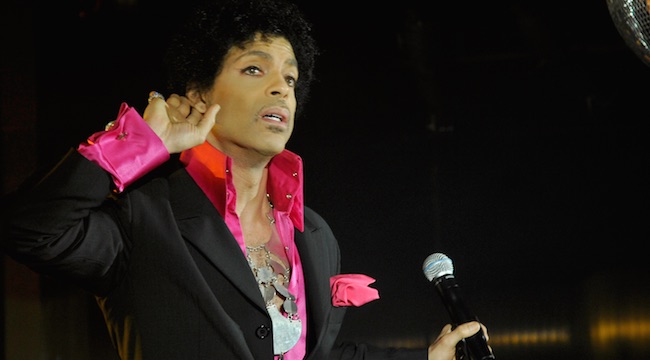 It's hard to believe, but today marks the one-year anniversary of the death of Prince. The singer passed away as a result of an overdose of painkillers in his Paisley Park home and recording studio on April 21, 2016. For many, the loss of an artist of such vibrancy, with so much left to write and record, and with so many epic shows still left to perform remains to this day. All over social media, fans and peers are celebrating Prince, his life and his many, culture-shaking works.
In his Minneapolis hometown, one industrious fan changed the put a symbol sticker over the sign for 6th street turning it into Prince-th street.
Elsewhere in the city, the Minneapolis Institute of Art lit its exterior in a haunting purple glow in his honor.
So was his home at Paisley Park.
At the Brooklyn Bowl last night, Prince's friend and, perhaps biggest fan, Questlove, turned up at Prince dance party.
Elsewhere, regular fans and superstars alike offered touching tributes to one of pop music's greatest icons.
Even though he's gone, Prince continues to be a presence in the world of music. Despite all the incredible records put out by some of the biggest names in music like, Drake, Beyonce and Kanye West last year, it was Prince who sold more than anyone else.
RIP Prince.