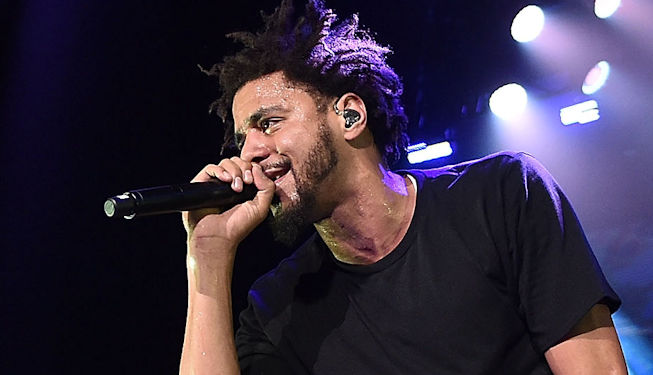 J. Cole randomly released a new track titled "High for Hours," produced by Elite and Cam O'bi, but it's probably not that random at all for him to choose this moment to share the song.
The gravity of the the day most likely isn't lost on Cole since he's been very calculated in his moves musically for the past few years. The country is days away from seeing a change in leaders and today is a national day of remembrance for the life and work of Martin Luther King, Jr. With his new track, Cole uses the second verse to detail the conversation he had with President Obama last year.
The exchange likely comes from the April 2016 gathering at the White House for the My Brother's Keeper initiative that included Cole and a host of other rappers convening with the President to discuss criminal justice reform and how the system affects the black community. Painting the picture well, Cole depicts the butterflies he felt before speaking, almost sounding like a schoolkid nervous before a presentation, but manages to muster up the courage to ask the nation's leader if he sees the struggles of the everyday brother and what's holding him back from helping.
Without creating too much of a spoiler here, let's just say that Obama's full response displayed his usual level of frankness and compassion he's shown for the past eight years. In the end, he offers Cole key advice: "Don't stop fighting and don't stop believing, You can make the world better for your kids before you leave it."
Listen to the track below.