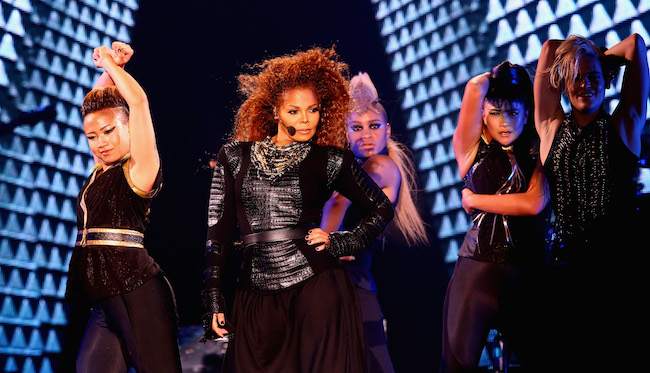 Last year, Janet Jackson postponed her world tour in order to take time off to give birth to her first child, and it's a good thing she did because not only did she give birth to a healthy baby boy in January but that time off gave her the time she needed to add a crucial piece to her tour: Cardi B.
Yes, Janet's State of the World Tour now has Cardi B mixed into Janet's set and the inclusion has fans online going crazy. Some genius got the idea to splice a quick piece of Cardi's smash hit "Bodak Yellow" into Janet's performance of her own smash and first mainstream hit, the 1986 single "What Have You Done For Me Lately."
The performance seems to have evolved, as earlier videos from the tour have just the instrumental from "Bodak Yellow," mixed into Janet's hit, and newer videos have Janet stopping her song entirely to spout off a few of the lines from Cardi's hit. Either way, the co-sign from the one and only Janet is huge for Cardi, right up there next to Beyonce's affinity for the Bronx rapper, and is just the latest confirmation that 2017 is Cardi's year.
Check out some of the best reactions to Janet Jackson performing and dancing to Cardi B's "Bodak Yellow" below.