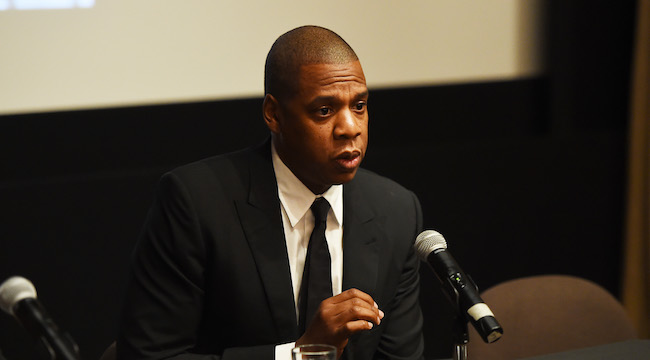 I don't know if you've heard, but Jay-Z put an album out this past weekend. It's called 4:44. By all accounts, it's pretty good. It's been called Jay's most humanizing album, his most mature, his most vulnerable, and his best lyrically in a long time. Not only that, but it's already platinum — after less than a week. It's been pretty clearly recognized as a far and away better project than his last album, Magna Carta Holy Grail, which was also commercially successful but critically panned.
However, what's really interesting is how both albums became as successful as they did. The success may or may not be owed to the content — Jay-Z's literal raps — and more to Jay's business acumen and forward-thinking; both albums sold more copies based on the corporate sponsorships associated with them than to actual physical album sales or even digital streams. Back in 2013 when Jay struck a deal with Samsung to hit the benchmark of a million copies sold, critics used this marketing technique to skewer the record. Now, just four years later, Jay looks like the prescient business man he's always been, man.
MCHG was released exclusively through Samsung, while 4:44 was an exclusive release (at least at first) through Sprint. These deals — and others like them — are changing the way in which music is purchased and consumed in music's streaming era, when entertainers from rap to rock to country need to be constantly looking for new ways to monetize their product.
Jay did receive platinum plaques for both MCHG and 4:44 as part of revised RIAA rules that would count the "pre-shipped" copies of the former (Samsung paid $5 million upfront for the rights to exclusively release the album through their phones), but not sales. But, this splitting of hairs yields a further question — how much do these ancient Billboard accolades even matter in the era of corporate patronage and digital streaming? More bluntly: Does it really matter if it's Apple Music, Tidal, or a phone company paying an artist to make a great record? At the end of the day, is there really a difference?
The details of the deal between Sprint and Jay-Z haven't been revealed yet, but the two are probably similar. Both are prime examples of the sort of corporate maneuvering that has to be managed at the top levels of the recording industry to maintain anything resembling the sales standards of old. The reaction to each one has been wildly different.

The Magna Carta agreement (ha!) was largely regarded as one of the "first" deals of its kind, but let's not let the shortness of millennial memory overlook an even earlier deal Jay had with Nokia to release his "retirement" project, The Black Album, pre-loaded on special edition versions of their 3300 phone model. (Even though I actually had this phone, unfortunately I missed out on the Black Album version, part of impetus here the was to spur phone sales themselves).
So, though Jay-Z had already proven he is a pioneer in the digital era, and he's hardly the first or only artist to make use of creative marketing and corporate backing to boost sales in the post iTunes world, he has, however, been one of the most successful.
For instance, right now, Irish rock band U2 is on a huge tour of their most famous album, Joshua Tree, arguably to win fans back after their debacle with the Apple music/iTunes release of Songs of Innocence. While that album didn't cost fans a dime, it came with a significant backlash as fans found that the album downloaded automatically to their iTunes libraries and became a pain to remove. It did, however, make U2 a lot of money — reportedly as much as $100 million. Instead of operating like a gift or a bonus, the album was seen as a parasite; Shawn Carter could've told Bono that framing is everything.
Jay's deals caused less backlash because he allowed the customer to make the choice of whether or not they received access to the albums, and kept them to streaming rather than making them permanent downloads. This flexibility allowed the consumer to still feel in control of their own choice, and not have anything foisted on them. Time and again, Jay has shown a remarkable acumen for adapting creative strategies while sidestepping the potential pitfalls that other artists with exclusivity deals often fall into.
Still, others have pursued more creative avenues for turning a profit in advance of record sales, includeing the tricky marketing employed by LA rappers Nipsey Hussle and Dom Kennedy. For the release of his 2013 mixtape/album Crenshaw, Nipsey adopted a unique strategy: Charge $100 for the physical copy of the mixtape, include one-off incentives like exclusive concert tickets (which can't be bootlegged), and limit the run of physical tapes to 1,000 copies.
When news broke, the concept met internet ridicule (just like Jay-Z's first deal with Samsung), however, Nipsey was the one got the last laugh all the way to the bank, as the 1,000 copies sold out in just 24 hours. The kicker? The first 100 copies were purchased by Jay himself; he continually invests in other artists even as he pushes his own work to new boundaries. His Roc Nation management company is yet another factor in the way Jay stays present and supportive in the music industry.

Dom Kennedy had a similar sales idea for the release strategy of Get Home Safely in 2013. He sold the entire stock of physical product directly to Best Buy wholesale, and let Best Buy figure out how to move the units. Essentially, Dom's strategy was similar to the one used by Eazy-E to sell the original records of Straight Outta Compton, so don't go "real hip-hop" on me anytime soon.
By cutting out the distributor, Kennedy ensured that he would see his cut first, without going through the hassle of waiting for a label to recoup initial investment and removing the need to worry about how many records actually sold. By becoming his own distributor, he laid the blueprint for what Jay-Z was able to do with Samsung and Sprint — Jay just found a way to take these strategies digital, and ultimately, much more profitable.
However, it does seem that only artists of similar stature to Jay-Z would ever be able to pull off deals of the enormous scope that he has. While many artists, including Beyonce, Taylor Swift, Rihanna, and Drake often have exclusivity deals with brick and mortar stores or streaming services Tidal, Spotify, and Apple Music, you'll notice that those are the biggest names in the game, and even they haven't tried pulling anything as risky as the tech partnerships Jay-Z has been willing to chance. There's no telling if a similar strategy attempted by a less popular artist would be anywhere near as successful. This is not just a testament to Jay-Z's business acumen, but his cultural cachet, that a rapper nearly 50 years old in a wide-acknowledged "youth" genre could drive subscriptions the way he has.
Jay has not only built the groundwork on the business side, through partnerships like the one with Nokia — and the fact that he owns Tidal, where the majority of his catalog is now housed — he's also built a brand based on consistency of quality, from Reasonable Doubt (which he shopped independently in 1996) to The Blueprint. The challenge all artists face now is how to translate what Jay-Z has accomplished as the biggest name in the game into viable strategies that any artist and tech sponsor can mutually benefit from. But, like his last two albums clearly indicate, the real trick to success is all in the timing.