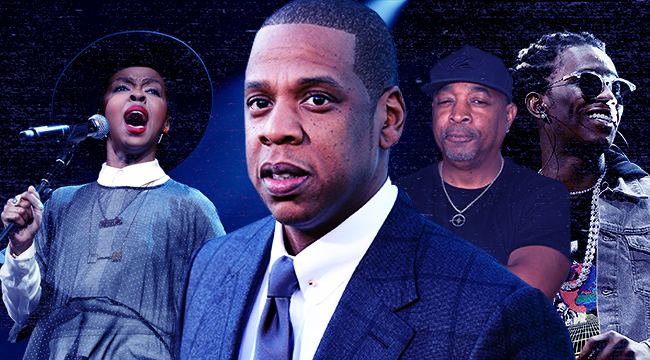 Maybe the fact that he is the first rapper to be inducted into the Songwriters Hall of Fame made Jay Z feel reflective and expansive. Maybe, with the impending release of his new album 4:44, Hov felt the need to provide some context for whatever his new project is going to be. Or maybe he was just bored in the waiting room while Beyonce gave birth to their twins, and turned to Twitter, like the rest of us do.
Whatever the reason, on Thursday, June 15th, Jay Z rediscovered Twitter, and it was absolutely epic. Not epic in the meme way, or in the sense of an "epic" fail, but legitimately, genuinely epic, because Jay Z is an icon and a legend in the world of rap, because he is arguably one of the Greatest Of All Time in hip-hop, and because he decided to list the rappers who influenced him as a writer and a rapper. Plus, he never tweets.
It's hard to think of what the closest equivalent to this honor is the rap world; maybe the closest thing is being knighted by the King of England? It is the ultimate seal of approval, the stamp of quality from the highest name in the land: A Nike sponsorship and a five-star Zagat review, all rolled into one. The names on this list should now be considered Important in the realm of rap, with the capital "I" not just implied, but required.
The truly wild thing about Jay's personal list is that there are all the old school names anyone would expect from a legend more than 25 years deep in the game: Rakim, Big Daddy Kane, KRS-One, Chuck D from Public Enemy, Ice Cube, and his mentor Jaz-O, but there are also plenty of contemporaries like Drake, Lupe Fiasco, Future, Young Thug, Ab Soul, and Playboi Carti.

This just shows that one can grow up in hip-hop without becoming stodgy and staid, without clinging hopelessly to the past and inisting that "real hip-hop" will one day come back and return "mumble rap," "ringtone rap," "pop rap," or whatever other pejorative form of "you kids get off my lawn" that rap heads can come up with to disparage the youth or any semblance of change from the boom bap that defined the (early) 90's Golden Era.
It also shows that it's possible to embrace the new, the fresh, and the different without outright rejecting the groundwork laid by the legends of old. Rap can bend or break rules without discarding its history; in fact, the rules can only be distorted or manipulated more skillfully when the foundation is acknowledged. How can a rule be broken if it's never learned?
Jay Z, more than any rapper (other than, in this writer's opinion, Snoop Dogg) is proof positive that evolution is possible and that aging gracefully within hip-hop can be done, but that it requires a willingness to show flexibility and openness to the idea that a rapper/MC/artist can learn from the youth, if they also have enough integrity to do so without trend-hopping or resorting to "Hello, fellow kids"-style pandering.
When he released Reasonable Doubt in '96, Jay was firmly entrenched in the boom-bap, mafioso-rap stylings that were popular in the era, but by the time he "retired" in '03 with The Black Album, hip-hop had changed tremendously, in large part due to innovations he himself ushered in on Vol. 2: Hard Knock Life, and especially on The Blueprint. Hov stopped wearing jerseys because he was thirty-plus, and showed us how to throw on a suit and get it tapered up. He got fed up with Autotune and issued a 48-bar funeral for the engineering plug-in that didn't quite get the job done, but did course correct the genre from becoming an endless list of copycats.
Many of the names that Jay listed in his thirteen-tweet, stream-of-consciousness list of shout-outs were people that he himself helped to put on, such as Young Chris, J. Cole, Lupe Fiasco, and Kanye West. For him, to also recognize them as influences on his own style is not just magnanimous, it shows incredible self-awareness on his part to acknowledge their contributions to his continued longevity. By borrowing bits from the past, and bits of the present, he has consistently helped to define the future for hip-hop over a 25-year career that he looks to continue this year with 4:44.

The fact that the prospect of a new Jay Z project in 2017 still generates buzz among fans is fantastic in the rap world. It's an example for every rapper seeking to make a long term career out of saying words that rhyme over a beat; it's proof that you can be of a moment without getting stuck in that moment. Knowing that Jay lists Tee Grizzley among his list of inspirations gives younger hip-hop fans confidence that 4:44 will sound fresh in the now, but knowing Jay still bumps Grandmaster Caz lets old heads know that he won't fall asleep at the wheel lyrically either.
Hip-hop has always been, and will always be, youth culture, but Father Time is undefeated. Everyone grows up eventually — not everyone has to get old though. It's good to know that as we all age, hip-hop is able to age with us. The generation war has been over; no one age group holds the rights to the throne now. The past always becomes the present, and the present will always need the past, because both are only building the foundation for the future. And that future, at least in Jay's estimation, is bigger than hip-hop.
You can see the full list of Jay Z's lyrics inspirations below:
Rakim, Big Daddy Kane, KRS-One, Chuck D, Ice Cube, Jaz-O, Eminem, Andre 3000, Nas, The Notorious BIG (RIP), Nas, Tupac (RIP), J. Cole, Kendrick Lamar, Chance The Rapper, Jay Electronica, Lauryn Hill, Nicki Minaj, MC Lyte, Queen Latifah, Common, Kanye West, Drake, Meek Mill (listed… back to back, tee hee), Run DMC, Grandmaster Caz, LL Cool J, 2 Chainz, Cam'ron(!), Q-Tip and T.I. (as "tip — both of them"), Black Thought, Pharaohe Monch, Scarface, De La Soul, Ice T, Kool G Rap, Melle Mel, Kurupt, The LOX, DMX, Schoolboy Q, Ab Soul, Lupe Fiasco, Mos Def, Foxy Brown, Boss, Rick Ross, Quavo, Future, Travis Scott, Tee Grizzley, Redman, Ghostface Killah, Raekwon The Chef, The Wu-Tang Clan (somehow seperately from the aforementioned), GZA, Busta Rhymes, Treach (from Naughty By Nature), Young Thug, Beyonce, Lil Wayne, Juvenile, BG, Nipsey Hussle, Lil Kim, Slaughterhouse (with a "yes mouse too ha" thrown in for lulz), Wale (as Folarin), MC Eiht (COMPTON), 2 Short, E-40, Mac Dre, 50 Cent, Big L (RIP), Showbiz & A.G., Nice & Smooth, Fat Joe, Big Punisher (RIP), Digable Planets, Butterfly (separately from Digable Planets), Beanie Siegel(!), Young Chris, Freeway, State Property, Jeezy, Pusha T, Playboi Carti, ASAP Mob, Sean Price (RIP), Mobb Deep(!), Kid Cudi, Tyler The Creator, Earl Sweatshirt, Snoop Dogg, Slick Rick, Pimp C and Bun B (UGK for life, RIP Pimp), Big Sean, Sauce Money, Fabolous, Mac Miller, and Barack Obama(!!!!!).