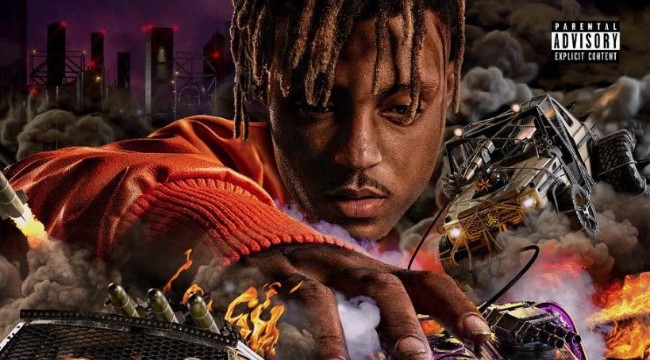 There are levels to stardom. You can be locally famous or globally famous. You can be famous overseas but not at home; you can be famous among those locked in on new trends with laser focus, but nowhere near a household name.
Chicago "not just a rapper" Juice WRLD is right on the cusp of a transition. His song "Lucid Dreams" saturated streaming via playlists. His debut album, Goodbye & Good Riddance, with its singles "Armed And Dangerous", "Lean Wit Me," and "Wasted," is certified gold.
He seems to be the ideal artist for this modern era of hyper-eclectic tastes and decentralized consumption. His blend of emo compulsions with a legitimate gift for straightforward lyricism and a clever turn of phrase should give him cachet with multiple scenes and generations.
His refusal to conform to just one style has given him an angle into markets many of his predecessors and peers can't lay claim to. His latest effort, Death Race For Love, comes just 10 months after his promising debut, aiming to capitalize on that promise, launching him from Next Big Thing to a legitimate superstar.
Death Race For Love expands on the eclecticism displayed on Goodbye & Good Riddance, branching off into some surprising stylistic territory. It's still rooted in the early 2010s-era pop-punk that undoubtedly formed the 19-year-old's musical identity, but it expresses those tendencies in new ways, both innovatively appealing and shockingly disappointing.
In all, it continues to prove that Juice WRLD, despite his young age, has all the makings of a truly generational talent — once he figures out exactly who he wants to be. For all the experimentation on the album, it loses focus, runs overlong, and careens sharply into alarming misogynist fantasy by its end, all marks against its truly engaging moments.
Who else would think to blend No ID's soulful chops with Hit-Boy's percussive mastery on "The Bees Knees," switching beats midway through to better display his chameleonic gifts? Then there's "Big," where Juice spazzes out over another Hit-Boy production, a gothic trap number where he flexes some of his slickest raps: "I got that pump, it's ironic how that pump made him pump his brakes / I ain't Lil Pump but I got double Glocks on me like Gucci Gang."
It's when he begins shapeshifting too closely to the form of some of his peers that he begins to lose touch with who he is: "Who Shot Cupid?" sounds like a Post Malone throwaway, while "Syphilis" brings the overarching melodic mood to a grinding halt with a half-baked XXXTentacion impression, going buzzsaw screamo after spending most of the album establishing a chill, moody vibe.
There's a lot of filler, too. For much of the back half of the album, Juice simply rehashes better ideas from earlier songs, such as on "Won't Let Go" and "Rider." At 22 tracks, having so many songs where he does similar things vocally and conceptually becomes repetitive and tiresome.
He very nearly sticks the landing on the final track, "Make Believe," when the "Saudade Vem Correndo" sample kicks in; after being lulled by the sleepy vibe of the last five or so songs, my ears perked up at the familiar samba guitar that also backgrounds Pharcyde's 1995 classic, "Runnin'." For a moment, I thought he'd have his spiritual successor to "Lucid Dreams," which similarly made use of a sample familiar to hip-hop heads (Sting's "Shape Of My Heart," previously used on Nas' "The Message") to link old and new schools and catch lightning in a bottle.
Instead, he flips it into a lurid, Shady-esque fantasy that borders on reprehensible, considering both its modern context and the fact he was called out for a similar concept on "Fine China" from WRLD On Drugs last year. At best, it sounds dated and out-of-place. At worst, it's reflective of the worst behavior of his fellow young "Soundcloud rappers" — behavior he's managed to avoid himself, but nothing he should be making light of.
If Juice WRLD can figure out how to condense the better ideas, like the vocal pyrotechnics and smart wordplay on "Robbery" and "Hear Me Calling," and excise the more grating ones, like the aggressive thrash rap on "Syphilis" and especially the disappointing toxicity of "Make Believe," he can easily become a Drake/J. Cole/Kendrick Lamar level talent, and one of the faces of mainstream hip-hop. He's got the tools, the work ethic, and the relatable appeal of some of blog rap's biggest stars, with fewer of the distracting ethical concerns that dogged other breakout stars like XXXTentacion and Tekashi69. At this point, his only opponent in the Death Race For Love is the clock and the inevitable curves. If he can learn to navigate both, he can find himself in pole position and looking at a first-place finish.
Death Race For Love is out now via Grade A Productions/Interscope Records. Get it here.