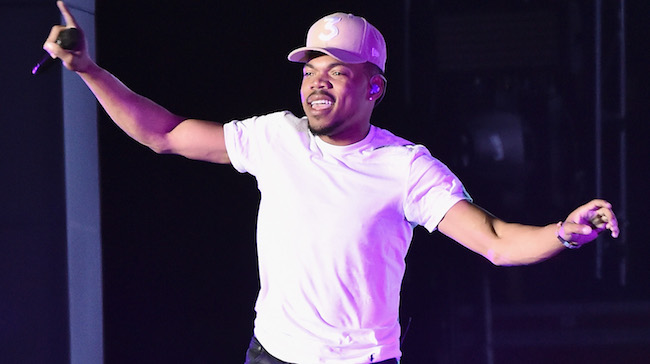 Chance The Rapper has had a big week, rescuing Soundcloud from apparent death and dropping new music with Young Thug to celebrate the achievement, but at least one person — or three people? — wants to rain on the Chance parade before everything gets too sunny. Producer group J.U.S.T.I.C.E League took to Twitter to reiterate some previous claims that Chance doesn't pay producers and question just how altruistic Chano's charitable efforts have been.
For over a dozen tweets, whichever of the three producers that make up the J.U.S.T.I.C.E League went on and on about how Chance didn't pay them, seemingly for the Acid Rap tracks "Cocoa Butter Kisses," "Good Ass Intro" and "Everything's Good (Good Ass Outro)" back in 2013. Then whoever was at the helm of their Twitter account began attacking him for his involvement with Soundcloud, saying "The thing is @chancetherapper normalized the free business model. Don't pay (or pay minimal) for creation, post on (Soundcloud and not pay royalties."
The producer group has accused Chance of not paying producers before, as recently as June of last year when, in the middle of another rant, he sent a tweet to Flying Lotus saying "I doubt that @chancetherapper even pays producers."
Chance eventually responded to J.U.S.T.I.C.E League on Twitter, saying that yes, he did tell them "sue or pull up" but added "the money I "owe" you, I paid to the actual producer who is suing you currently to get out of that slave deal," an accusation they denied. Check out all of the tweets below.