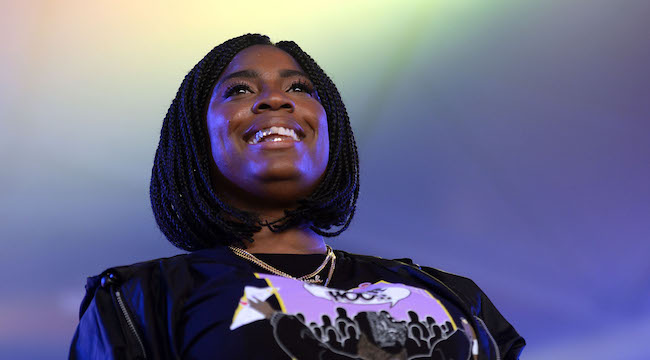 Ah, man! Just when it looked like Kamaiyah's next mixtape was on the way, it's been pushed back. The Oakland, California, rapper announced on Thursday that we won't be getting her Don't Ever Get It Twisted mixtape like promised on Friday. Instead, she has to wait to get some of the samples cleared.
Nevertheless, she took to Instagram to reveal the mixtape's cover art (adding the Lil Wayne-esque hashtag #sorryforthewait in the caption). The photo has Kamaiyah sitting nobly on a golden wicker throne. Two columns hold statuesque lions on either side of her — most likely symbolizing her greatness. She wears a tiger-print jacket, just in case the big cat theme didn't soak through the first time and didn't have you dreaming of her lyrical prowess. Kamaiyah stares down the camera, and therefore, us, begging haters to take her on.
https://www.instagram.com/p/BTHSneIjdgN/
"My mixtape does not drop this month it was pushed back," the rapper wrote on Twitter on Wednesday. "Shit is different once you sign a deal trust me if I could just drop my mixtape I would but I can't due to sample clearances etc." Meanwhile, she shared the inspiration for the cover art.
Don't Ever Get It Twisted is the follow-up to the acclaimed A Good Night In The Ghetto, which dropped in March of 2016. It holds the West Coast banger, "Fuck It Up," featuring YG.