At this point, the long-talked about myth of Drake and Kanye West working together on a joint album is proving to be more than rumor and interview fodder, thanks to a recently erected billboard hinting towards the project. While no one's publicly spoken on the songs the two have created, imagining how it will sound and what it will look like on paper isn't too hard. They have worked together previously, a reminder served last week when the previously unreleased song "You Know, You Know" made its way to the web and when we look back to Take Care's two Kanye-produced songs "Show Me a Good Time," and "Find Your Love."
So, we donned our thinking caps to do a little brainstorming on what to expect when you're expecting an album from two of music's biggest stars as they prepare to unleash greatness.
1. Ghostwriters Galore
Let's just go ahead and get this one out of the way. Drake may deflect and act as if he holds his pen solo but Kanye hasn't been the least bit shy in admitting he utilizes a little help with his words. "All Day" had more names listed than an elementary teacher's roll on the first day of school. That collaborative effort will come into play again here as he tries to keep pace with Drizzy's rhymes. — John Gotty
2. A Guest List Longer Than "We Are the World"
Ain't no party like a Drake and Kanye party 'cause a Drake and Kanye party has lots of people! That's normally not how that saying goes, but trust, this is like Play and Kid throwing a house party. Everyone wants to be invited and everyone will be invited. Wayne, Nikki, Big Sean, Future and 2 Chainz will pull double duties as ghostwriters and guest spots. That's just a few because there will clearly be more. A lot more. Let's just hope no one clogs up the toilet. — Marcus Benjamin
3. The Streaming Wars Ramping Up Another Notch
Kanye essentially set Apple and Tidal up for this. His recent rant portrayed both entities as bickering parents engaged in a divorce that involves a custody battle. Sub in the album in place of the child and there you have. To we, the jury, both streaming services will look like the bad guys if they can't come to terms on who gets custody, in this case, the premiere plus exclusive window attached to every big name release these days. — John Gotty
4. Loads Of Narcissism
Aubrey's known to drown himself into his sorrows fueled by snakes disguised as friends, people from his past who didn't believe in him and women who only love him because he's one of the biggest musicians on the planet. Kanye's one to talk about himself, his outfits and everything else endlessly. For as self-aggrandizing as rap can be, it can be fully expected that this duo will take their referential approach to levels unheard of. — John Gotty
5. Pusha T Dropping His Cash Money Grudge
This one may be far-fetched, but it has the small chance of happening due to the G.O.O.D. Music connection obviously. Push has turned his attention to Cash Money/Young Money in recent months and if anyone can convince him to get on a track with the man whose swag doesn't match the sweaters, it's Kanye. Plus, it's just one more selling point for an album that will already have plenty. — Marcus Benjamin
6. Jay Z, Maybe?
This is the only question mark on our list, and for good reason. Over the past year, there's been this unspoken subliminal back and forth between Jay Z and Drake. However, Jay could break the tension and smooth any loose ends over, which would make way for him to appear on a song with the duo. If nothing else but to a favor for Kanye. — Sermon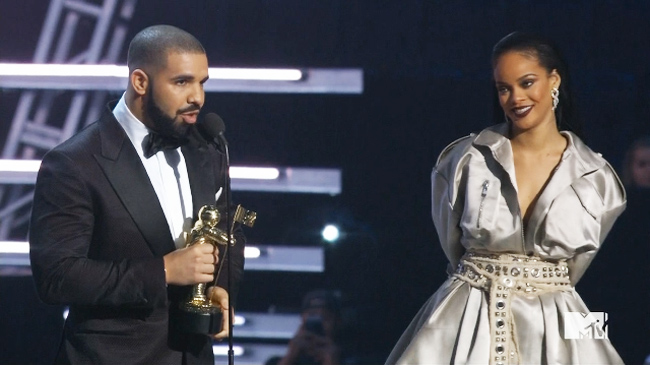 7. Bad Girl RiRi Will Join The Party
First single. Claiming it now. She's worked heavily with both, including her most recent hit, "Work," that had Drake riding shotgun as it powered to the top of the charts. Let's all pray it's not slow and dreary like "Four Five Seconds" and more exciting a la "All of the Lights." — John Gotty
8. Not Enough Microphone For Both Of Them
I haven't been a fan of Kanye on other people's records for a while, mostly because he has this ridiculous habit of elongating songs for the sole purpose of hearing his own voice. Most recently, he showed up on Schoolboy Q's "tHat Part," giving up some random impromptu freestyle that was utterly unnecessary.