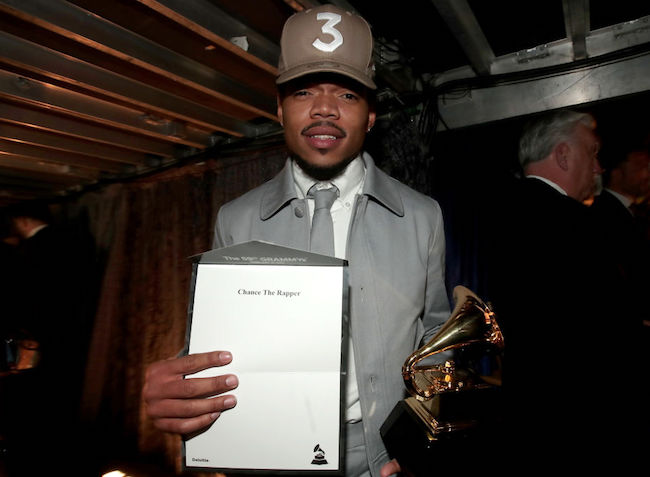 Chance The Rapper had plenty of reasons to smile after his big wins at Sunday night's Grammys. The young Chicago MC took home awards for three Grammys — his first ones ever — for best new artist, rap album and rap performance. With a night like that, it was only right that his peers congratulate him and they did, beginning with Drake on Sunday night, followed by fellow Grammy Kendrick Lamar.
On his Instagram, Chance shared a text message he received from Kendrick. "Congrats bro. God is moving," Lamar wrote, signing off as "kdot." It's like one industry outsider congratulating another for helping to make that breakthrough for other artists who flow in the same vein.
It's also a lot more positive than the vibe of another text Kendrick sent on Sunday to Terrence "Punch" Henderson, co-president of Top Dawg Entertainment, after Adele was awarded Album of the Year for her 25 album, instead of Queen Bey for Lemonade in what was considered one of the bigger upsets of the evening. "Punch" tweeted, "I just spoke to kdot. He's really up set about the Queen B not getting her album of the year trophy."
It's no Kanye upstaging Beck back in 2015, but nobody wants to imagine a fiery Lamar unloading on the industry with a genre-spanning "Control" redux.