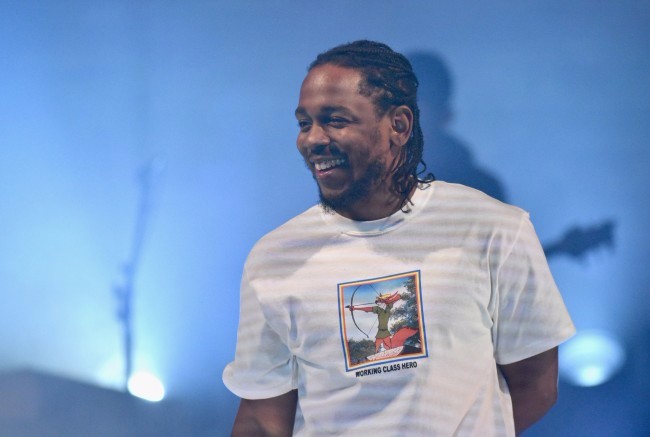 The New York Times has a massive new article where they gathered up some big names and ask a simple question: where does you music come from? As you might expect, the answers they recieved from Kendrick Lamar, Beck and Tom Waits were quite complex.
Lamar, who is currently in the studio working on a follow-up to 2015's To Pimp A Butterfly, offered a small glimpse into where his next album is going.
"I think now, how wayward things have gone within the past few months, my focus is ultimately going back to my community and the other communities around the world where they're doing the groundwork…To Pimp a Butterfly was addressing the problem. I'm in a space now where I'm not addressing the problem anymore. We're in a time where we exclude one major component out of this whole thing called life: God. Nobody speaks on it because it's almost in conflict with what's going on in the world when you talk about politics and government and the system."
He compared the urgency he feels to create music that addresses the world right now, to watching a daughter grow up.
"This is what goes on in my mind as a writer. One day, I may have a little girl. And it's a girl in particular — funny you said that. She's gonna grow up. She's gonna be a child I adore, I'm gonna always love her, but she's gonna reach that one point where she's gonna start experiencing things. And she's gonna say things or do things that you may not condone, but it's the reality of it and you know she was always gonna get to that place. And it's disturbing. But you have to accept it. You have to accept it and you have to have your own solutions to figure out how to handle the action and take action for it….Learning to accept it, and not run away from it, that's how I want this album to feel."
Both Beck and Waits equate songwriting not to an internal struggle like Lamar, but communing with an outside force. Beck tells the paper that there's an overarching creative force that all writers tap into, and that sometimes ideas are snatched out of the ether before you can create something.
The Morning Phase singer said that he went to record some songs with Pharrell years ago, and when he went into the studio he felt the overwhelming desire to create something over-the-top happy. After he walked through the door, Pharrell sat him down and played him an early version of his megahit "Happy."
"It was one of those moments where you laugh to yourself and think, 'O.K., so maybe we'll do something else because I think you kinda nailed this one,'" he said.
Waits feels that musicians need to make themselves proper conduits for music that is already existing out there somewhere.
"I like the idea that there are things coming in through the window and through you and then down to the piano and out the window on the other side," he said. "If you want to catch songs you gotta start thinking like one, and making yourself an interesting place for them to land like birds or insects. Once you get two or three tunes together, wherever three or more are gathered, then others come. It's like a line for a hot dog place, you know? And when there's four people lined up on the sidewalk, some people will stop and get in line just 'cause there's a line."
Take a look at the whole interview over at the New York Times.