It's become commonplace to trot out this line as a way to further push the knife in the Warriors for their stunning collapse in the Finals: the 73-win Warriors lost after holding a 3-1 lead in the Finals while starting the NBA's first unanimous MVP at point guard. It's a particular brand of schadenfreude that the casual fan reserves for only the most dominant when they finally fall. But Golden State's precipitous decline after such a dominating regular season may have inadvertently spurred their gigantic offseason success when Kevin Durant decided to head to the Bay.
On Monday night, Durant spoke to ESPN's Ethan Sherwood Strauss about watching the Warriors collapse against the Cavs in the NBA Finals, and how it was perhaps the final catalyst in his decision to sign with Golden State this offseason.
"[My agent] Rich [Kleiman], who's here, we were watching Game 7," Durant told reporters at a ceremony in which the Warriors were presented with the ENCORE Award from the Stanford Graduate School of Business. "Well, as it started to unfold, it was, 'No question, no way could you go to this team.' And I was just like a kid, like, 'I'd really like playing with these guys. I'd get wide-open 3s, I could just run up and down the court, get wide-open layups.' I was basically begging him. I was like, 'Yo, this would be nice.'"
The biggest takeaway from these comments has to be how much Durant was already thinking about the Warriors as a possible destination long before Cleveland started their comeback. He knew how much fun he'd have on their team, but was also aware of how it would look for him to sign with the two-time defending champions who had just completed perhaps one of the most dominant seasons in NBA history.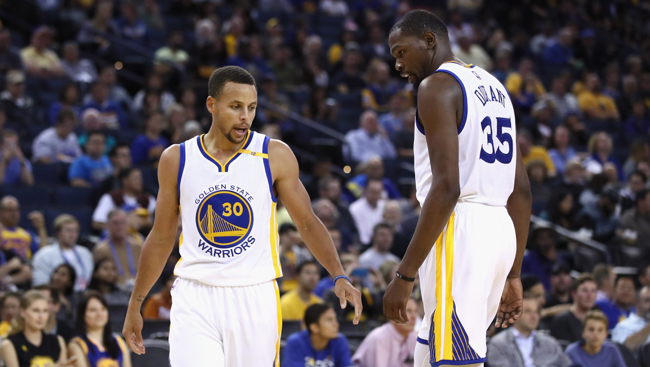 Yet, Durant says he was "basically begging" his agent to consider them as a real alternative that summer, even knowing the ensuing perception, which would have been dramatically amplified if they had actually won the Finals — which it really looked like they would for a while there. For all the talk of Durant being ushered — or getting pushed, depending on who you're talking to — towards the Bay area by friends and confidantes, and his own desire to be less conspicuous than he was in Oklahoma City, at the end of the day, it was about having fun on the basketball court.
"As they lost, it became more and more real every day," Durant tells Strauss. "You start to think about it even more. To see if I would fit. Then once I sat down with these guys, everything that I wanted to know about them, they kinda showed me. But we don't have to talk about [what would have happened if the Warriors had won the title], because they didn't get the job done, and they came after me.
"I guess you could say I'm glad that they lost."
Lets take a moment to congratulate Durant on his honesty here. Whatever you feel about his decision, you have to be impressed that he was so genuine when prodded about the Finals. Yes, Golden State's big-time crumble against the Cavs was a signifier that he was needed when making his ultimate decision. And he's so happy with that decision, despite the very vocal antipathy its provoked among his supposed fans in Oklahoma City and elsewhere, he's willing to concede he was actively happy when the Warriors lost.
That's actually pretty ballsy. So for all the armchair analysts continually calling Durant a coward for the decision, maybe stop and think on it a bit longer before crassly maligning a stranger like that.
And he is a stranger, regardless of how many profiles you've read about him.
(ESPN)