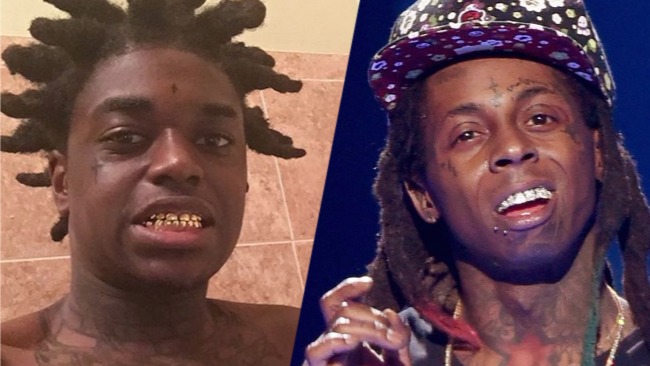 It looks like Chris Brown and Soulja Boy's boxing match has inspired Kodak Black to want to see Lil Wayne in the ring. The project baby is obviously still feeling saltier than the Dead Sea after Wayne gave him the Mariah Carey "I don't know her" treatment during an October interview with The New York Times. When asked by name about the fresh crop of "rappers" popping up, Wayne swore to God he had no idea who 21 Savage, Lil Yacthy, Lil Uzi Vert and Kodak Black were.
So now Kodak wants to fight Lil Wayne because that's how you settle things when someone has no idea who you are.
https://www.instagram.com/p/BPEsmvnj2gF/?taken-by=kodakblack
The fresh-from-jail Florida rapper went on Instagram Monday night and officially challenged Lil Wayne and not Jay Z for a match that will ultimately decide who's the best rapper alive once and for all. Not sure how one ties into the other, but I'm not going to question how Kodak's brain works. "Tell Lil Wayne fight me. Finna knock that stupid ass n**** out. And if [Lil Wayne] whoop me, he the best rapper alive," the 19-year-old challenged.
Kodak's pretty confident in his abilities to open up a can of whoop-ass because he's down to bet everything he owns on the never-gonna-happen match, continuing, "I got my jewelry and my house, everything on it. Tell Lil Wayne to fight me in the ring and I'ma beat his stupid ass. I bet everything on it." And just who's going to train Kodak to fight everyone's favorite rapper? No one. Boxing is his second favorite hobby. "I don't need no Floyd Mayweather, Adrien Broner. Naan n****s on it," Kodak added. "I'm finna beat Lil Wayne stupid ass. Watch!"
The boxing match challenge comes after Kodak got on Instagram and said, "Lil Wayne could eat my ass." That's it. No context, explanation or backstory. Just Lil Wayne could eat his ass. I'm hoping Weezy responds to Kodak because children always act out when their parents aren't giving them enough attention. So unless Lil Wayne acknowledges his son's existence, I'm afraid Kodak Black will just continue with his shenanigans.
Kodak Black says "Lil Wayne can Eat my ASS" pic.twitter.com/5KiTHnmDge

— DJ Akademiks (@IamAkademiks) January 9, 2017