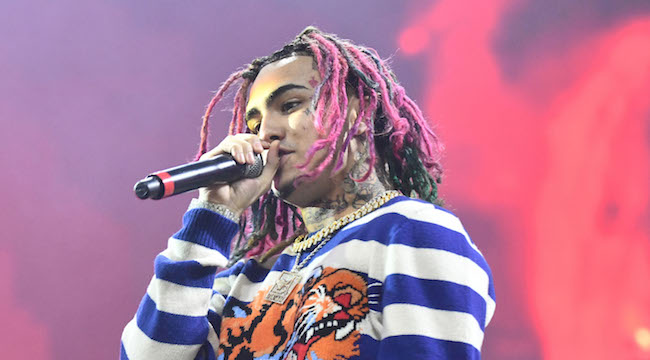 Floridian rap up-and-comer Lil Pump may have given up the drug Xanax for the new year, but it looks like his sense of time is still a little wonky. He promised via social media that his and Carnage's monstrous collaboration, formerly thought to be titled "Shynee," would be dropping in a week — two weeks ago. However, good things come to those who wait, and now the duo has unleashed its Godzilla-stompingly epic trap banger "I Shyne" to wreak havoc on speakers around the world.
Where Pump's previous single, "Gucci Gang," was a woozy, hypnotic chant over an airy beat from producers Bighead and Gnealz, "I Shyne" is a 21-gun, close-range artillery blast of bass. Rather than the disinterested — dare I say — mumble of "Gucci," Pump's flow here is as hyperactive as an 8-year-old in a bounce house. His disaffected demeanor is gone, replaced by a souped-up, double time yell-rap that would make Meek Mill weep a thug tear of joy.
Pump is just getting started, but he's already garnered the attention of the comedians at Saturday Night Live, who parodied his Catholic Church-enraging video for "Gucci Gang" during a recent episode. With a joint mixtape alongside fellow old head-upsetter Lil Yachty in the works, expect the 17-year-old to have a big year and give uncle Joe plenty of rant fodder with his exuberant, teenage antics.