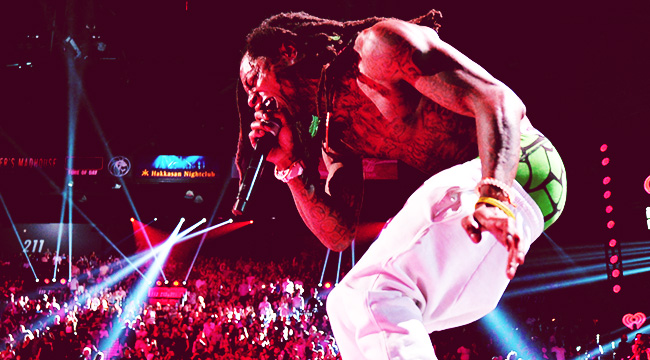 In the summer of 2007, hip-hop heads flooded the clubs around Houston to experience Lil Wayne's takeover of the rap game firsthand. He wasn't physically in the building, but his presence was undeniable. The club rocked back and forth, loudly blasting through the most popular cuts from the emergent "rock star" phase of hip-hop — hard guitar samples, Ed Hardy shirts and Nirvana references. Yet time stood still when "Mr. Jones," a piano-laden Rocky theme originally created for Mike Jones came alive through the speakers. Instead of Jones' voice however, there was Wayne, sounding energized and hungry.
Most in the club, myself included, could only look around to one another as we rapped out Wayne's opening verse of "The Sky Is The Limit." The song was a call to arms and a signifier of a new reality. Lil Wayne had spent three years telling the world he was the best rapper alive. Now he was proving it.
Da Drought 3 arrived a decade ago this week. It served as the unofficial follow-up to Dedication 2, a Lil Wayne and DJ Drama collaboration that further exhibited Wayne's unreal talent for flipping words and concepts. Da Drought 3 was the next step in Wayne's all-consuming passion to prove that he was better than anyone in hip-hop. "F*ck a competition, me wanna murder dem," he boldly stated on the opening track "Intro." He wasn't kidding.
At the time, rap had entered a sort of buddy-buddy period, but Wayne still talked big. He wouldn't get as ridiculous as to threaten to kidnap Beyonce during his Cold War with Jay Z, but he was close. Wayne had been famous since he was 12 years old, when he was just a scrawny pre-teen who couldn't cuss on Hot Boys records. Now he was on the verge of 25, but still had a chip on his shoulder. To help reach his peak, he put together a formula based around vague references to '80s pop culture, straight-line masculinity big-upping his many sexual conquests, clouds of weed smoke, gallons of codeine syrup, and an insanely wide and diverse collection of beats.
The music on Da Drought 3 crisscrossed both time and genre. There were his takes on songs of the moment (Gnarls Barkley's "Crazy," Beyonce's "Upgrade U"), excursions into '80s Miami bass (Rodney O and Joe Cooley's "Everlasting Bass"), the moody New York hijack of Jay Z's "Dead Presidents II," Nas' "If I Rule The World" as well as the Southern fried instrumentals which remained his specialty ("Throw Some Ds", "Walk It Out").
The lines were instantly quotable. "I'm so high I could eat a star," he rapped on "Upgrade U." "Put a motherf*cker on ice like the Maple Leafs / That's a hockey team and I ain't on no hockey team / But I'm a champion, where's the f*cking Rocky theme? Damn, rest in peace Apollo Creed." Wayne didn't chase divinity or some pre-ordained belief that he was the best, he wanted challenges. He dared somebody to come at him but couldn't find any takers.
Da Drought 3 also showed off his ear for talent, when he pulled a young, up-and-coming rapper named Nicki Minaj for the track "Don't Stop Won't Stop." Her voice is thinner than it is now but the attitude is already there. "The p***y real good, it tastes like mango," she declares, while also making questionable pop culture references: "You'll be Harry Potter and I'll be Hermione." Minaj was still a year away from releasing her own star-making project Beam Me Up Scotty, but Wayne gave her guidance, in his own snide way. "Here's what I've learned / All these other n****s p***y like dry sperm."
Wayne is wrapped up in his own hubris on Da Drought 3. He's fueled by an intrinsic need to top was the last outrageous thing he said. Jay Z's comeback record, "Show Me What You Got" was reduced to ash. There was no more "since the best rapper retired" modifier attached to his best rapper alive claims. The most audacious moment of the tape however, was his defense of kissing Birdman. Using DJ Khaled's undeniable "We Takin' Over" instrumental, the same beat he had destroyed with his closing feature months prior, he gave praise and adulation to his surrogate father. "Damn right, I kissed my daddy," he rapped. "Who was there when no one wasn't? Just my daddy," he explained. They were inseparable then. A two-man tandem against the world. Now, thanks to money and creative issues, their worlds have shrunken to two completely different islands. Cold and distant. A place no one could have imagined during the apex of WeezyMania.

"Everybody in this f*ckin' game got the game f*cked up. Work, man, work…The new rappers today, they act like R&B singers," he said in a 2007 studio rant. "What is you doin?! Go into the studio with clips– ammo: positive subjects, b*tches, n*ggas, fake n*ggas, club song, ho's that shake their… Who am I shootin' at? I got bullets for days."
Listening to Wayne do his thing on Da Drought 3 is similar to watching Russell Westbrook attempt to maximize everything about his game in 2017. The most breathtaking aspect of it is that Wayne didn't slow down. He left everything he had in the recording booth. In 2007 alone he delivered on 77 guest features, a precursor to the mammoth 2008 that was ushered in by the titanic Tha Carter III. That release ended up selling a million albums in just its first week, cementing Wayne's position as the most popular rapper in the world.
Weezy's success pushed countless others to try their hand at beat jacking mixtapes to the point that that the format turned into a passing fad. 50 Cent may have kicked off the trend, but Wayne bulldozed the path and left a trail of destruction in his wake. No one did it better.
After Da Drought 3, a Wayne verse became an event. Whether he was rapping in Jamaican patois, French, making goofy come-ons to Ciara or beating his chest in different tones like a dread-head Man-O-War, Wayne had settled into his creative peak. Free association was his game. The same way we praised Eminem for making words bend to his will, we championed Wayne for making an entire world collapse on itself to fit into his. He was more "Kobe Bryant" then; respected and vilified. Da Drought 3 marked the moment became the most unassailable and effervescent rapper in the world.