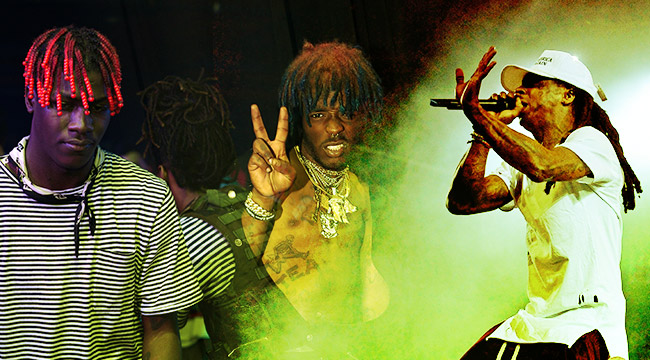 Lil Wayne's prison memoir Gone 'Til November: A Journal of Rikers Island is finally on store shelves, and the rapper and probably soon to be best-selling author is doing his media rounds drumming up publicity for the book because, even if he can't release music, he can get paid off this book, damnit.
One of his stops was The New York Times, where he touched on a myriad of topics, confirmed his album Carter V is "done, sitting and wrapped as is" and "so much better than everything I've ever heard." He also talked about working with new artists like Chance The Rapper, which Wayne says is generally a result of his manager simply forwarding him the song and telling him it needs to be done. As such, Weezy, who has said numerous times before that he doesn't listen to anything but Young Money, hilariously says he has no idea who a ton of noteworthy new artists are.
Are there rappers in the new school that are motivating you? Are you keeping up with Yachty, Uzi Vert, 21 Savage, Kodak?

I swear to God I didn't know you were saying people's names just now, so that should probably answer that question. I just do my own thing.
What's ironic is that a lot of the criticism about the new school kids — they look funny, they're not saying anything, they use too much Auto-Tune — is a lot of the same stuff that detractors said about Tune when he was running roughshod on every beat imaginable in the mid-late 2000s. In many ways, Uzi, 21, Yachty, Kodak Black and everybody else with all their face tats, dreadlocks and Auto-Tuned ballads are Wayne's rap offspring
Only Wayne knows if he's being serious here, but, since he always knows how to mimic flows and cadences on his mixtapes, my guess is he has some inkling of who these guys are.