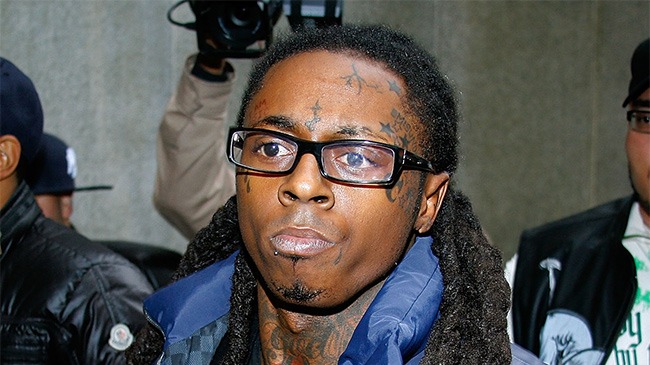 Eight years old. That's how old Dwayne Carter, Jr. was when Bryan Williams discovered him in New Orleans 25 years ago. Ever since then, Lil Wayne has been a rapper, professionally. Now if Wayne's middle-of-the-night Twitter confessional is to be believed, that journey is over and he's retiring. Just like that.
One tweet, after hundreds — if not thousands — of songs, Tune ends his storied career with one tweet. In true Wayne fashion, he ended his retirement tweet the same way he does all his shows, by telling the fans he loves them, and that was that.
If it feels both sudden and unnecessary that's because it is. Wayne's resurgence in the past 12 months has been one of rap's best stories. His spree of incredible verses has been awe-inspiring, and his trading bars with 2 Chainz, another rapper in the middle of a Kill Everything He Touches revival, for an entire album was one of the most pleasant surprises of the year. But now that Williams, a.k.a. Birdman, has become friend/father figure turned courtroom foe, the weight of the entire situation has seemingly crushed all the will Wayne has to ply his trade.
The two are infamously locked into a $51 million lawsuit over unpaid royalties and advances on Wayne's record deal with Birdman's Cash Money Records, and the irony is it was Wayne that kept the ship afloat when Cash Money's business practices scared every other original member away.
Wayne's mid-2000s mixtape run singlehandedly resurrected Cash Money's prestige after his friends and former comrades all left him there to rot with Birdman, a fact not lost on Weezy.
After he joined the coveted One Million Records Sold In One Week club in 2008 with Tha Carter 3, they all slowly matriculated their way back to Cash Money's and Birdman's open arms. By then, Wayne had stocked the label's shelves with their future. Drake would go on to join Weezy in the One Million In One Week pantheon, Nicki Minaj became a star, and, again, Wayne was responsible for keeping Cash Money Records alive.
What Wayne has slowly and painfully learned is that 25 years doesn't buy much loyalty in the music business. When push came to shove, Cash Money did what would benefit them most, even if it hurt Wayne in the long run. His Young Money Records deal was set up so Cash Money has 51%, essentially making them the owners despite Wayne's large stake and role as the face of the company. They also allegedly made a backroom deal with Universal, the distributor for both Cash Money and Young Money, to reroute money meant for Wayne back to UMG to pay back Cash Money's own debt.
Shady business practices aside, Lil Wayne is a legend. Place him wherever you may in your Top 5, Top 10 or Top whatever lists, but his career and accomplishments in rap are legendary. There's no debating.
It only took five weeks for his debut album Tha Block Is Hot to go platinum when Wayne was just 17 years old. After two more gold albums, he began the slow burn towards changing rap forever. The Squad mixtapes represented his first foray into the world of mixtapes that he would soon conquer. He declared himself "the best rapper alive, since the best rapper retired," on his artistic breakthrough Tha Carter, and then dropped his most undeniable album, Tha Carter II, proving himself a critical and commercial success after all the original Cash Money members had left, including his go-to producer Mannie Fresh.
But it's what Wayne did after Tha Carter II that will forever cement his legacy. Like no rapper before him — yes, even 50 Cent — Wayne utilized free music and capitalized on an untapped medium to elevate himself to the prophecy he made on Tha Carter. The Dedication and Drought series solidified his reputation, creating a cultural phenomenon.
It was a perfect storm with Wayne's influx of free music arriving at the moment the Internet became its most accessible, but that's how it always works. Technology meets art and supply meets demand. Add all that up and you get the latest, hottest new thing. From 2006 to C III in 2008, Lil Wayne was that.
In that time, he became your favorite rapper's favorite rapper — unless your favorite is Pusha T I guess, but then again, maybe him too — but all of that was still not enough for Birdman to reward Wayne's loyalty. Despite the fact that Wayne had renegotiated his original deal with Cash Money several times to stay on the label.
Even though Wayne said he doesn't want "sympathy, just serenity," there is room to sympathize. The man who once likened retiring to dying, saying "my career is my life" and now he's unwillingly retiring, admittedly beaten into submission. Just like he predicted, rappers are showing up to his funeral too. Ultimately, his 25-year partnership with Cash Money defeated him mentally, and after all he's done for them, that's just too bad.